Are you tired of the same old, cookie-cutter bar? Are you looking to try something different on your Thursday or Friday night?  If so, HBG has you covered. How about a speakeasy with a secret entrance only accessible through a phone booth, or a barber shop that transforms into an exclusive nightclub?  Why not you trade your pool stick for an axe at a one-of-a-kind axe throwing bar. Think we are joking? Think again! These are just a few of the unique attractions you can only find in HBG.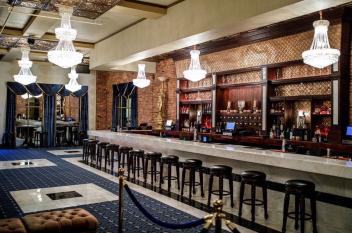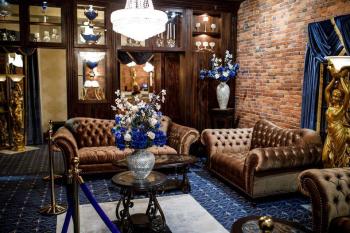 You will need to know the password to enter these speakeasies.
Looking for an upscale place to party the night away? Lead your friends to Anna Rose Bakery, located on Walnut Street in Harrisburg. While this delicious bakery is busy serving pastries and donuts during the day, at night it serves as the entrance to a nightclub like no other. While your friends think you must be craving a sweet treat, you can surprise them by guiding them to the phone booth at the back of the bakery. Make sure you get the telephone number to dial from the bakery manager!  When the back of the phone booth opens, be sure to take a selfie with your friend's stunned faces, as you are swept into a world of 1920's glamour at the 205 Speakeasy.
If you love to let loose and dance your worries away, then Knock is the speakeasy for you. Your night begins on Pine Street in Downtown Harrisburg, where you will enter a beauty parlor with a simple sign out front labeled "Madame Knock's." Follow the stairs until you arrive in a small, simple beauty parlor. Your stylist will ask you for the password, so be sure to follow Knock on FB to get the daily code. Should you give the correct password, your stylist will guide you into a secret speakeasy centered around a large dance floor. At this classy speakeasy, you will be served by fabulously dressed bartenders and waitresses while dancing to music from the 90's, 2000's and today. Dress to impress!

 
Looking for a more casual environment?
If getting dressed up and dancing the night away isn't your thing, don't worry, HBG also has one-of-a-kind nightlife options for you. If jeans and t-shirts are more your style, hop over to Generation Axe off of Union Deposit. 
Open at 4pm, Generation Axe offers a delicious food menu featuring strombolis, sandwiches and my personal favorite, the steampot. Grab dinner and order a few drinks before meeting with your Axe-Pert who will teach you the techniques needed to hit your target. Then, challenge your friends to an axe throwing competition, or play any one of the axe-games designed by the staff of Generation Axe. Be sure to wear close-toed shoes and stop by the selfie-stations out front.