There is no need to go stir-crazy trapped at home when Harrisburg has a packed schedule of family-friendly events, concerts and exhibits. Here are just a few ideas to keep you and your family busy during the winter months:
Discover the Harrisburg Heat
Bring the kids to a professional soccer game right here in Harrisburg. The Heat is PA's only Major Arena Soccer League Team and plays in Renu Solar Field, located within the PA Farm Show Expo Center. With family-fun nights, kids entertainment and much more, mark your calendars for one of their winter games.
Pennsylvania Auto Show
From January 23-26, the PA Auto Show will feature more than 600 cars, trucks, SUV's, motorcycles, ATVs and boats. New this year, a beer and wine tasting event will be held in the small arena on Friday night, showcasing several local breweries and vineyards. Saturday and Sunday are "Family Fun Days" with inflatable bounce houses, face painting, character photos and more. 
The Great American Outdoor Show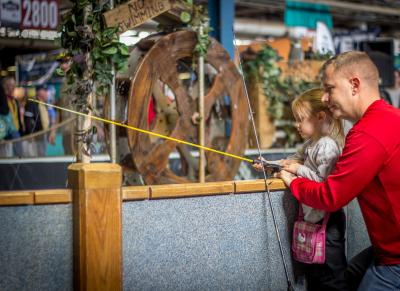 The world's largest outdoor show is held right here in Harrisburg from February 1st-9th. Featuring nine halls of exhibits and more than 400 outfitters, these nine days are packed with celebrity visits, seminars and live fishing demonstrations! Don't miss this year's NRA Country Concert on Saturday, February 8th, starring Chris Janson and Jacob Bryant. For the little ones, the Show features a Kids Trout Pond, a Kid's Casting Contest, Kid's Archery Lessons, face painting and more.
The PA Home & Garden Show
From February 28th through March 3rd, more than 350 exhibitors gather at the Farm Show Complex for a massive Home & Garden Show. From bathroom remodels to home decor, this is your place for inspiration. Sunday, March 3rd in Kid's Day, featuring a Harrisburg Senators Meet and Greet, a Lego Contest, a chance to meet Coco of the Hershey Bears, a toolbox building class, and a Zoo America show.
Family Movie Night at the Whitaker Center
Bring the kids to see Star Wars: The Rise of Skywalker on Central PA's largest movie screen. At over four stories tall, this massive screen will give your kids an experience unlike any other! Playing until January 31st, reserve your tickets today.
Author Talks and Book Signings
Enjoy a date night or just treat yourself to a night at one of the Midtown Scholar's Author Talks and book signings. This winter they are hosting a number of famous authors including Liz Moore, Stephanie Land, Pulitzer Prize Winner David W. Blight, and many others. One of my personal favorites, journalist Adam Higginbotham will be presenting his book Midnight in Chernobyl: The Untold Story of the World's Greatest Nuclear Disaster on March 4th. These events are also great for older children who will enjoy the children's reading corner in the adjacent room.
Horse World Expo
Have you ever seen an equine musical revue? Now you can at the Horse World Expo held February 27 through March 1st. The 2019 Theatre Equus features incredible choreography performed by PA's most beautiful horses. Shows are held at 8:30pm and require advanced tickets. During the day hundreds of vendors, entertainers, and equestrian clinicians host a packed schedule of shopping, education and incredible photo opportunities.
The PA State Museum
Explore Pennsylvania's heritage, archaeological artifacts, and decorative arts at the State Museum. Visit the Planetarium for a show the whole family will enjoy or wander through the Hall of Geology for a look at our region's rocks and minerals. For children 5 and under, Curiosity Connection offers an educational play space for kids to learn and discover.
The PA Farm Show
As the largest indoor agricultural exposition in the country, the PA Farm Show (January 4-11) welcomes more than half a million visitors each year, along with 6,000 animals, hundreds of exhibits and vendors, dozens of demonstrations and contests, and one incredible butter sculpture! With 24 acres of agricultural entertainment, where does one begin? Check out our PA Farm Show Guide with must-see activities, essential eats, what's new, and pro tips.