As the summer comes to an end and the kids go back to school, what could be better than an end-of-summer celebration along the mighty Susquehanna River? How about including three days of live music, art vendors, food trucks, a Native American Pow Wow and kids activities, all with FREE admission.
Everyone who lives in Central PA probably knows that I am talking about the Kipona Festival, a well-known and beloved tradition in HBG, but for those of you who aren't familiar, Kipona is unlike any other outdoor festival in the region. Kipona has come a long way from it's humble beginnings in the early 1900's as a riverfront festival focused on swimming, canoe races and other water activities. Today the festival attracts over 50,000 visitors each year and packs a variety of shows, attractions and thrills into Labor Day Weekend, September 1-3. Here are a dozen not-to-miss attractions at this year's Kipona Festival:
1. Tightrope Walk Over the Susquehanna River
​​The talented tightrope walkers from Mystery Circus Arts, LLC  will once again be performing at this year's Kipona Festival. In addition to their breathtaking walk across a thin rope suspended over the mighty Susquehanna River, this year they are adding an illuminated tightrope walk in the dark. Lights will be placed under the tightrope stretching over the Susquehanna River from the Walnut Street bridge to the riverbank. The performers will wear illuminated costumes as they make the daring feat across the river in the dark.  Performances will be held Saturday at 12pm, 2pm, 4pm, Sunday at 12pm, 2pm and 4pm, and Monday at 12pm and 2pm. The illuminated night walk will be held on Saturday at 8:15pm.
2. THREE Live Music Stages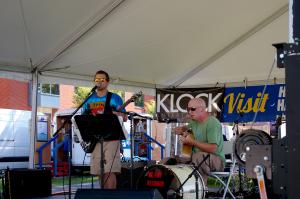 This year's festival will feature non-stop musical entertainment with more than 30 bands in 3 performance areas along Riverfront Park. Two main stages will be located between Market & Walnut Streets and the second stage in Kunkle Plaza. A 3rd performance area will feature acoustic musicians and can be enjoyed near Pine Street. 
3. The Mobile Zombie Escape Room Bus
Coming to the Kipona Festival for the first time, Harrisburg Escape Rooms at ABC Lanes is proud to present a new escape room game, Zombie Virus. This one-of-a-kind mobile escape room offers a completely interactive and immersive experience with a live zombie in the room with you! Each group will work to complete the research, cure the scientist and save the world. Saturday and Sunday only! Each session will be 15-30 minutes for groups of 4-8 participants. Sign ups will be available at the festival on a first-come, first-served basis.  Sessions can be tailored to younger participants, ages 8 and older.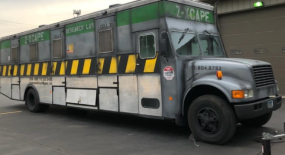 4. The Artist's Village
This year's Kipona will feature more than 30 artists from across the state offering pottery, sea glass creations, photography, apparel, jewelry and much more!
5. Fireworks Display
On Sunday night (September 2nd) a 10 minute fireworks display will light up the night sky. Fired from City Island at approximately 8:15pm, the best places to view the fireworks are on the banks of RiverFront Park or along the Walnut Street bridge.
6. More Than 40 Food Vendors & A Biergarten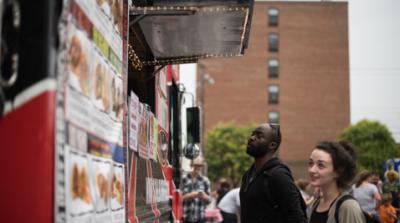 Make sure to come hungry because with over 40 food vendors set up along Front Street, there is something for every taste. Try their festival favorites such as funnel cakes, fried oreos, kettle corn, french fries and farm show milkshakes, or spice things up with southern BBQ, artisanal grilled cheese, pasta and seafood. Don't forget to stop by the Beirgarten to pair your festival entrees with a local brew from ZeroDay Brewing or the Millworks Brewery.
7. Free Outdoor Movie
New this year, the whole family is invited to stay for a FREE outdoor movie on Saturday, September 1st at 8:30pm. This year's feature is Disney's Coco, presented by Midtown Cinema. Bring your lawn chair or blanket and enjoy Coco under the stars in RiverFront Park! 
8. Native American Pow-Wow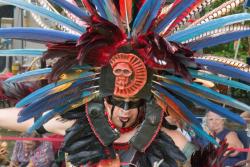 Held on City Island, the Pow-Wow features tribal dancing, live music, delicious food and dozens of artisans. The Pow-Wow cannot be seen from RiverFront Park, so be sure to walk across the Walnut Street walking bridge and turn left at the Senator's Stadium, or just follow the music!
9. Children's Festival
There are plenty of activities for the kids at this year's Kipona Festival. The Children's Stage will feature the Popcorn Hat Players' Tales from Ancient Greece at 12pm and 4pm each day, Harrisburg Improv performing family friendly improv for tweens and teens, a book reading of "A Cat Named Mouse" by local author Patti Tingen, and dance performances from The Maniacz dance group (Just 4 the Kids Entertainment)! Glitter tattoos, balloon animals and caricatures will be free, and for a nominal fee sand art, a recycled scrunchie balloon bracelet craft, airbrush tattoos, face painting and a wide variety of carnival games will be available. 
10. Canine Village
Complete with free doggie treats, a watering station, swag for your pup, adoption information, a vaccine clinic and leash training, this year's festival has a whole section devoted to your four-legged friends. 
11. Free Painting Classes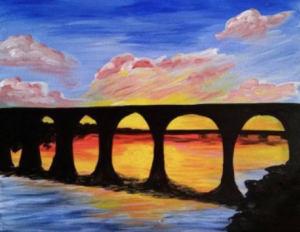 Have you ever wanted to try your hand at painting? Here is your chance! Instructors will guide you through each step in the creation of your very own "Susquehanna Ablaze" painting.  On Monday, September 3rd, guests will have two opportunities to join a paint class in the City Island Pavilion, one from noon to 1:30pm and the second from 2:30 to 4pm. Each class is limited to 50 guests (first-come, first-serve) and canvases and supplies are included. 
12. Rubber Duck Race on the river
On Sunday at 6pm, join Making Strides Against Breast Cancer for a rubber duck race along the river. Yellow ducks can be purchased for $5, or purchase a pink survivor ducks for $8 and all proceeds benefit Making Strides Against Breast Cancer. Join the crowds and cheer on your rubber ducks because cash prizes will be awarded to the first three ducks to cross the finish line! (First place: $125, second place: $75 and third place: $50.)
Special souvenir ducks sponsored by Belco will also be available and can be purchased at any Belco branch in the Harrisburg area, including Carlisle, Newville and Lebanon. Ducks will also be for sale at the Kipona festival.

Parking
Street parking is FREE on Sunday and Monday, and guests can get 4-hours of free street parking on Saturday using the code LUVHBG in the ParkMobile App. For those who prefer covered parking, the Market Square garage located on Second St. is offering a $10 all-day parking special. 
If you prefer not to look for a parking space in the City, City Island is always an option. The parking lots on City Island are running a $5 all-day special on Saturday, Sunday and Monday.