Don't let the cold weather freeze your plans for a winter getaway! The Harrisburg Region is an all-weather, family destination offering tons of winter activities that hold up all season long. From whizzing motorsports and science experiments to museums and animal exhibits, kids love to learn and play here! And let's face it, you're looking for a reason to get them out of the house!
Whitaker Center for Science & the Arts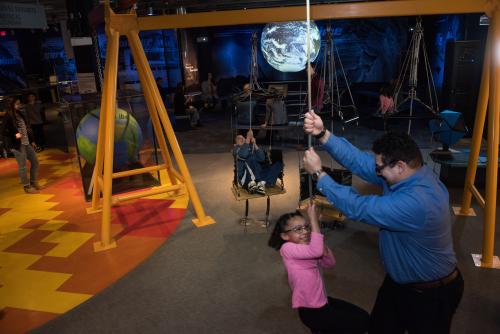 We're not exaggerating when we say Whitaker Center for Science and the Arts has it all! Children and parents alike can put on their thinking caps and try dozens of hands-on exhibits dedicated to scientific discoveries. You can experiment with physics, celebrate the ingenuity of transportation and manufacturing, learn about global weather, reveal the technology behind movies, television, music, and theatre, and get to know the human body to better understand your health. Even the littlest members of the family can get their share of learning experiences at KidsPlace, a child-sized city that offers toddler-centric activities like theatre, a grocery store, building blocks, and a water table.
In addition to its brilliant science center, Whitaker Center is home to Central PA's biggest digital screen! At 38 feet high and 70 feet wide, you're in for a truly immersive 3D movie experience. Their showings include incredible, larger-than-life journeys into space, underwater, through the skies, and back again.
The State Museum of Pennsylvania
How much do you know about Pennsylvania? With just one trip to the State Museum in Harrisburg, you can double or even triple your expertise when you explore three floors of history, geology, archeology, paleontology, and more! Get to know the Commonwealth's native plants and animals, or dive into a 350-piece collection that highlights the ways Pennsylvania's people, places, and products uniquely influenced the nation we are today. You don't have to wonder what Pennsylvania might have looked like 100 years ago because you can stroll around a life-sized streetscape town. Uncover the secrets left behind by our region's Native Americans through their artifacts, pottery, jewelry, and tools, excavated and meticulously preserved. From mastodons and military history to the Turnpike and tectonic plates, there's no limit to what you can learn. If you're worried about entertaining your rambunctious toddler, the Curiosity Connection offers 45-minute play sessions filled with imagination and creative play!
Winter Events at the Farm Show Complex
Farm Show may be over but the winter season is packed with fun events coming to the Farm Show Complex. From January 24-27, the PA Auto Show will feature more than 800 cars, trucks, SUV's, motorcycles, ATVs and boats.  Saturday and Sunday are "Family Fun Days" with mini electric vehicles for the youngest attendees, inflatable bounce houses, face painting, games and more. New this year, an 8-foot tall LIVE transformer will be on site for photo opportunities.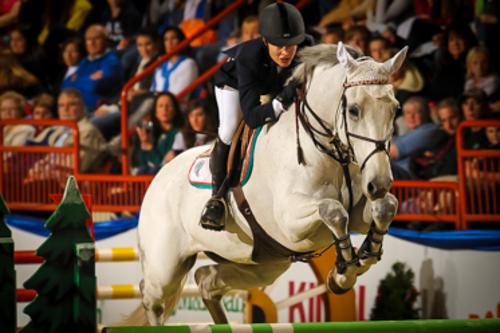 Motorama, the nation's LARGEST all indoor motorsports event, featuring 1 million square feet of action, takes over the Farm Show Complex on February 16 & 17th. And last, but certainly not least, the Horse World Expo (February 28th - March 3rd) is four days of non-stop entertainment, equestrian tournaments, shopping and education that the whole family is sure to enjoy.
Wildwood Park's Nature Center
Surround your family in the wonders of nature during a visit to Wildwood Park's Benjamin Olewine III Nature Center. It's free to try their interactive exhibits on the ecology of the Wildwood Park, spot wildlife amongst the snow from their observation area, and climb through a tree to see nature from the inside, out. The Nature Center also has a collection of plant, animal, and science books for all ages to read and enjoy. If it's not too cold outside, take a brisk nature walk on their paved paths and boardwalks where you might see bird and animals in their natural habitats.
Popcorn Hat Players Children's Theatre
Gamut Theatre Group's Popcorn Hat Players put on shows for children that are funny, engaging, and interactive. Their acting troupe specializes in performing classic fairy tales, with a twist! Think Hansel & Gretel in the 1950s or The Ugly Duckling as an 80s movie! Kids ages 2-12 and their families will enjoy the lighthearted stories, quick-witted actors, and sing-a-longs.
Roundtop Mountain Resort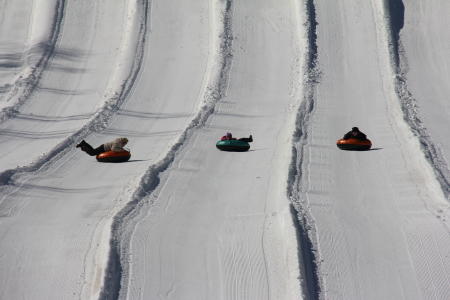 Only a short drive from Harrisburg, is one of the top ski resorts in Pennsylvania. Embrace the snowy season with a day trip to the slopes for some sledding. Roundtop Mountain Resort has 14 large snow tubing lanes for kids age 5 and up. No experience or equipment is necessary – just a willingness for fun and rosy cheeks after a few hours in the cold. They also have a Kiddie Tubing area and child-sized tubes for tots under 4. They also offer slopes for snowboarding and skiing as well as lessons to get you started. Even when there's no snow falling, Roundtop has a state-of-the-art snowmaking system that keeps the area covered with powder all winter long! When you're done, chill out (and warm up) in their lodge and grab a bite to eat at their Fireside Pub & Grill or one of their food courts.
When the weather outside is frightful, our family entertainment is so delightful!