When it comes to Harrisburg craft beer, Appalachian Brewing Company is the OG. Founded in 1997, ABC was the first brewery in Harrisburg since 1951. They're nothing fancy – Just your local brewpub with crowd-pleasing craft beer, a mouthwatering food menu, and seven locations (and growing). Read on for more about their beer, free production tours, soda works tours, Abbey Bar, and more!
Appalachian Brewing Company Beer & Harrisburg Brewery Tour
ABC has been brewing beer a long time as one of the region's oldest craft beermakers. Their fans have come to know and expect consistency and quality among their flagship varieties, like their Mountain Lager and Hoppy Trails IPA. If you've never tried their beer, you can rest assured there's a brew you'll enjoy. ABC wants to have a little bit of something on hand for every palate, be it stouts or sours! They often draw inspiration from their customers' feedback.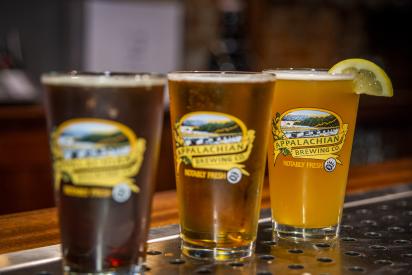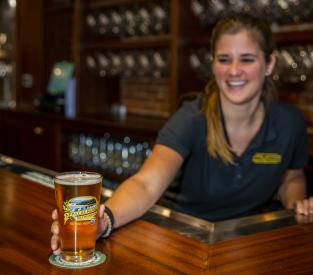 With four additional brewing locations, ABC has expanded their offerings to nine flagships, 40 seasonals, and some limited-time kegs that they're just trying out. Their main production facility at their original Harrisburg location brews all of their flagships, and ABC Mechanicsburg makes the seasonals. The other three brewpubs have the creative freedom to experiment, test, and try new techniques and ingredients to create the next best things in craft beer. We'll call them ex-beer-iments!
It's free to tour their brewery at Harrisburg. Led by one of their knowledgeable beermakers, the tour takes you step-by-step through the brewing process and includes complimentary samples at the end.
Brewery Production Tour Details
Where: ABC Harrisburg
When: Saturdays at 1 PM
Cost: Free
Duration: 45 minutes to an hour
In addition to being their oldest and largest location, ABC Harrisburg offers guests a historic ambiance.  Constructed in 1915, the three-story brick and timber building features antique brick walls, wooden beams, hardwood floors, and high ceilings. When the weather is fine, you can take your dinner and drinks outside on their rooftop deck, overlooking the city with a sweet view of the Pennsylvania State Capitol Building.
Appalachian Brewing Company Menu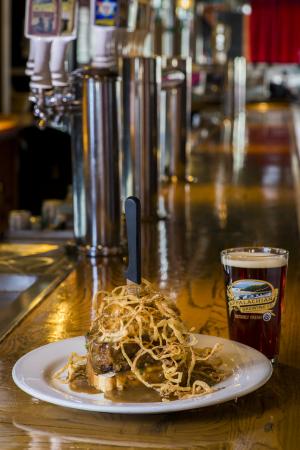 ABC's brewpub food menus consist of creative comfort foods crafted in a scratch kitchen. Their ingredients are locally sourced whenever possible such as pierogis from Hazleton, produce from Lancaster, and local ice cream. Every three months, ABC changes up a page of their menu to bring fresh creations to the mix.
The haddock in their fan-favorite fish & chips platter is fresh, never frozen, and is hand-dipped and beer-battered then cooked to a crispy finish. Enjoy all the cheesy goodness of their Brewers Mac & Cheese – a five cheese blend with bacon, bleu cheese, penne, and panko breadcrumbs. (Yes, we said cheese four times in one sentence. Make that five!)
As you might have guessed, their menu items pair perfectly with their pints. Their sweet and malty, amber-hued Jolly Scot tastes even better alongside their hearty, Mile High Meatloaf. This dish is homemade, featuring Black Angus beef on Texas Toast, garlic mashed potatoes, onion straws, and topped with Jolly Scot-infused gravy.
Appalachian Brewing Company Soda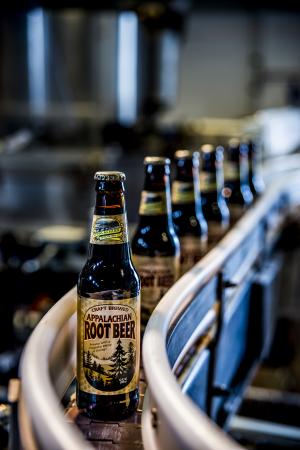 Pretty much as long as they've been brewing beer, ABC has made craft sodas. These small-batch bottled delights use only the finest ingredients (only natural sweeteners like pure cane sugar, stevia, and honey) and are brewed gluten- and caffeine-free. ABC's line of craft sodas includes their legendary root beer, along with white birch beer and ginger beer. For a sweet treat after dinner, order up an Appalachian Root Beer Float.
In addition to their beer production tours, ABC offers a Soda Works Tour at their Mechanicsburg location, showcasing their manufacturing and bottling processes. Get a behind the scenes look at their facility then put on your lab coats and create your own soda! Each tour guest receives two bottled sodas to bring home to family and friends.
Soda Works Tour Details
Where: ABC Mechanicsburg
When: Saturdays and Sundays at 1 PM and 3 PM
Cost: $12 per person (Group rate $10 for 8 or more)
Duration: Approx. 1 hour
Appalachian Brewing Company Craft Spirits
If you're into cocktails, ask for Appalachian Craft Spirits, their own custom-crafted line of small-batch spirits. Their Appalachian Craft 6X Distilled Vodka is perfect in a Bloody Mary or Moscow Mule and comes in vanilla, orange, and lemon flavors. Their line also includes 5-year Bourbon Whiskey, Island Style Rum, and London Dry Gin.
Abbey Bar at Appalachian Brewing Company
If you're in town for the weekend, check the events calendar for Abbey Bar, located on the second floor of ABC Harrisburg. This unique venue hosts several bands weekly in a cool space overlooking their brewhouse.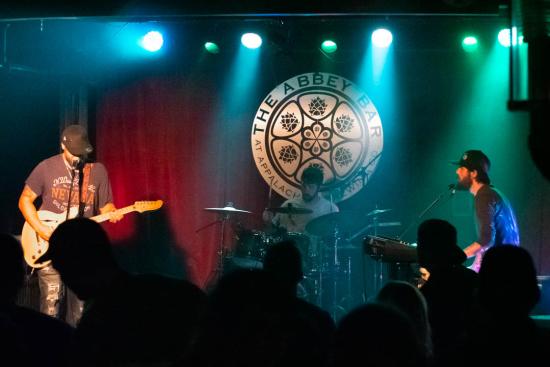 Appalachian Brewing Company: The OG of Harrisburg Craft Beer!
Beer, food and drink photos courtesy of Appalachian Brewing Company.
This article originally appeared on the Visit Hershey & Harrisburg blog.