June 19th is Juneteenth National Freedom Day in Pennsylvania, and Harrisburg is celebrating with a full week of events.
Organized by the Young Professionals of Color, this year's Juneteenth celebrations will include live musical entertainment, a restaurant crawl, art workshops, theatrical performances, and so much more.  Check out a selection of Juneteenth events below or visit the YPOC website for a full calendar of events.
---
Juneteenth Kick-Off  (June 11th)
Join YPOC and members of the community for the Capital Kick-Off on Sunday, June 11th from 12pm to 2pm on the steps of Pennsylvania's capitol building. Featuring music, giveaways, and a chance to speak with county and state representatives, the gathering will be held on the Third Street entrance and plenty of free parking is available along State Street.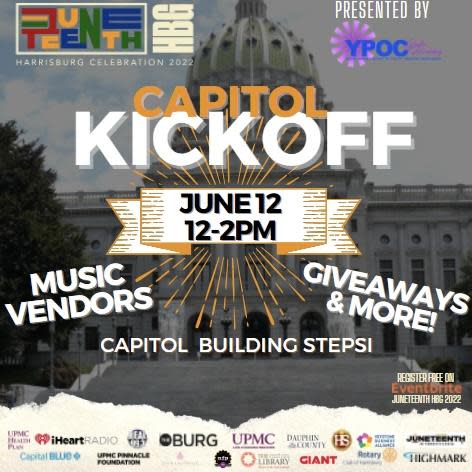 Meeting of the Minds (June 11th)
Although tickets are required, this community summit on June 11th is completely free. Join residents, small business owners, and non-profits as they collaborate on efforts to help Harrisburg grow. All attendees will automatically be entered for a chance to win free Juneteenth merchandise from YPOC.
Juneteenth Conference (June 14th)
The inaugural Juneteenth conference is a collaboration between HACC and PYOC and will be held at HACC's main Harrisburg campus on June 14th. The half-day conference begins at 1pm and features a full line up of local speakers, Keynote speaker Dr. Michael Eric Dyson, interactive sessions, and panel discussions. This event is free but registration is requested.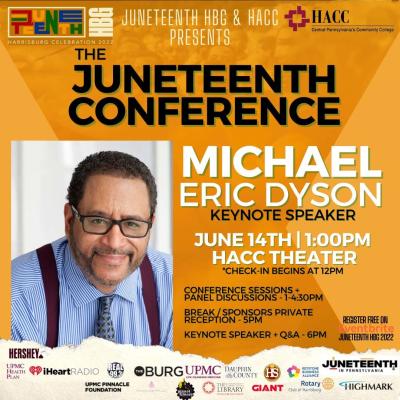 Harriet Tubman Reenactment  (June 15th)
On June 15th at 6pm, Open Stage Theatre will present a Harriet Tubman reenactment featuring Millicent Sparks. According to the Theatre, "Harriet Tubman Living History Experience Millicent Sparks brings to life the most famous conductor of the Underground Railroad, Harriet Tubman, who helped thousands of enslaved Africans to escape to freedom. At the conclusion of the portrayal, Sparks interacts with the audience, responding in character to questions about Tubman's life in slavery, the Underground Railroad and the Civil War." Be sure to get your tickets early for this one-time-only performance!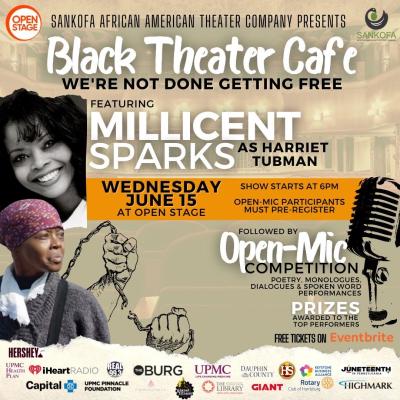 It's Lit: Black Theater Café (June 15th)
Following the Harriet Tubman reenactment on June 15th, Open Stage Theatre will host a Black Community Theater contest starting at 8pm. Featuring short theatrical performances from community members, local actors will compete for cash prizes before a live audience. The event is free, so come out and cheer on your local actors.
Paint Noir (June 16th)
Unleash your creativity during an evening of interactive art workshops on June 16th. Held within the Carousel Pavilion on beautiful City Island, join local artists Darius Davis, Tristan Bond, and King Prolifik as they guide you through painting, graffiti, and dye workshops. Registration is limited, so be sure to reserve your seat early.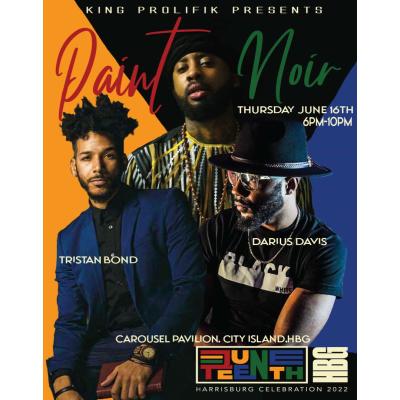 Discovery Walk and Restaurant Crawl (June 17th)
Grab your tickets early for the June 17th Juneteenth Discovery Walk and Restaurant Crawl. Participants will gather at Ad Lib Kitchen and Craft Bar located in the Hilton Harrisburg for rules and clues at 5:00pm. At 6:30pm teams of four or less will begin their exploration of Harrisburg's restaurant scene, while competing to solve eight restaurant clues. The team that successfully completes all eight clues will win a cash prize! Reserve your tickets on Eventbrite.
Juneteenth Concert (June 18th)
On June 18th, you won't want to miss Club XL Live's Juneteenth Concert featuring Bow Wow and other surprise artist. Doors open for this FREE concert at 7pm and the show begins at 8pm. The full list of performers will be updated on the event website shortly, so be sure to check back soon.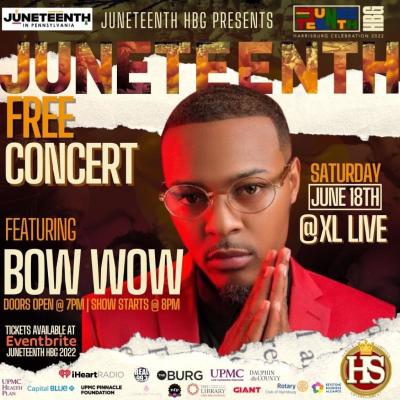 Nation Civil War Museum Juneteenth Community Free Day (June 18th)
The National Civil War Museum, located in Harrisburg's beautiful Reservoir Park, will offer free admission from 10am to 4pm on Saturday, June 18th as part of their Juneteenth celebration. Featuring live artillery and cannon fire, an African American Genealogy Workshop, a reading of the Emancipation Proclamation, and more, all events are free and family-friendly. For more information, visit the NCWM webpage. (Please note that this event is hosted by the NCWM and is not part of YPOC's event lineup.)

Juneteenth Jubilee (June 19th)
Held in Harrisburg's beautiful Reservoir Park, the Juneteenth Jubilee will be an afternoon of food, fun, and celebration. Starting at 2pm on June 19th, community organizations from across the City will gather to share their missions, programs, and unique products.