Sit. Stay. Submit your photos!
The  Harrisburg Downtown Improvement District (DID) encourages you to enjoy the sights of downtown Harrisburg with their new "Dogs in the DID" initiative. Harrisburg is a great place to live and visit – not just for humans, but also their furry friends! "Dogs in the DID" hopes to bring you and your pups downtown to enjoy all the city has to offer.
How will it work? Allow us to unLEASH the details!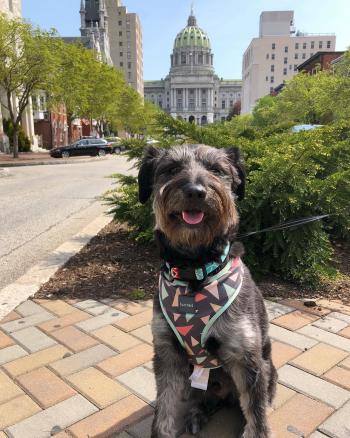 Are you a dog owner? Is your Instagram feed full of wagging tails, tennis balls, and sweet puppy dog eyes? We want to see your pictures! Everyone loves to share photos of their adorable pooch, so each month, followers will be encouraged to tag the Harrisburg DID (@HBGDID) in their Instagram posts featuring their dogs, to be submitted into the drawing. Winners will receive a FREE BarkBox for their pups to enjoy!
Requirements:
Photo must include your dog standing in or around a location within the DID
Participants must be following the DID and tag the DID in their photo to be considered. Please tag your posts with #DogsInTheDID! or @HBGDID
Each month a new winner will be chosen. You are welcome to enter as many times as you please!
There is no better place to bring your four-legged friends for a walk or sightseeing tour than beautiful downtown Harrisburg! We cannot wait to see your photos. For more information or if you have any questions, contact Sydney at Sydney@HarrisburgDID.com.