Spanning three city blocks in Midtown Harrisburg, the Broad Street Market is a gathering place for the community and a must-see spot for visitors looking to get a healthy sampling of the city's culture. Take a look inside the oldest continuously operating market house in the country.
What You'll Find
Simply put, the Broad Street Market is a vibrant spot in Harrisburg with diverse offerings and a culturally rich selection of food and goods. You'll find Amish and Mennonite produce stands, fourth generation butchers, locally made products like jewelry and goat's milk soaps. And all the freshly prepared food you can eat including American, Pennsylvania Dutch, Indian, Polish, Jamaican, Greek, North African, Puerto Rican, Mexican, and more.
It's not just the vendors who bring diversity. Patrons of the Broad Street Market represent a cross-section of the community. Residents (especially local chefs) are doing their weekly shopping, men and women in business attire are out to lunch, families, couples, friends, and visitors like you gather for a delicious day. It's a great place to people watch. On Fridays and Saturdays at lunch, you're likely to find dozens of people in the courtyard enjoying their food and listening to live music.
Vendors
So we have your mouth watering with the prospect of a delicious meal, but what kind of food can you find at the Market? Learn about some of the Market's vendors below.
Radish & Rye
The folks at Radish & Rye operate food hub to bring the best organic, artisan, and small family farm food to the Broad Street Market. Their goods are produced locally, no more than 100 miles from Harrisburg, and everything is labeled to show buyers just where their food comes from. Edible souvenirs include raw honey, jam, peanut butter, hot sauces, spices, and gluten-free treats.
Evanilla
Arrive early because these delicious gourmet cake donuts are a customer favorite and sell out every day. Strawberry rhubarb, banana walnut, Oreo, Earl Grey glazed, pistachio baklava, coffee toffee, mango poppy seed, and lavender caramel are just a sampling of Evanilla's unique weekly flavors! 
Elementary Coffee Co.
This stand has small-batch craft brews. Morning brews that is! Elementary Coffee Co. carefully chooses their beans and roasts them on site to prepare a perfect cup for each patron. You won't find sugar-loaded frozen drinks or automated brewing pots here. Just a simple, elementary approach to providing good coffee!
Eight Oaks Distillery
Eight Oaks Craft Distillers grow their own grains - wheat, corn, rye, and barley – in the fields nearby their family-owned and operated distillery in Lehigh Valley. They also bottle a rum made from 100% molasses and Applejack made from apple cider pressed at a local orchard. Stop by for a sample and take home a bottle.
Zeroday Brewing Company Outpost
This Midtown Harrisburg craft brewer is known for their excellent beers with even better names. Wastin' Daylight, Positive Vibes, and Financial Panther, to name a few. Zeroday's flagship, Mango Hab, is a spicy and refreshing brew that blends sweet mango and a habanero pepper kick. Grab a seat at their Outpost bar, chat up a local, and enjoy a truly Midtown experience.
Bon Appetit Crêperie
When you think of a crêpe, are you thinking dessert? Crêpes can be sweet but also savory, as demonstrated by Bon Appetit Crêperie. Their menu items infuse French, Mediterranean, and African flavors to create remarkable crêpes, which are thin pancakes packed with filling. Since joining the Broad Street Market, the owners sourced ingredients from other vendors in the market while patrons fell in love with these incredible crêpes.
History
The Broad Street Market has kept it local since the 1860s and has a rich history in the community. During its peak in the 1920s, the Market had more than 700 vendors. Some of the Market's older patrons remember earning a nickel to deliver goods to neighboring homes using a little red wagon.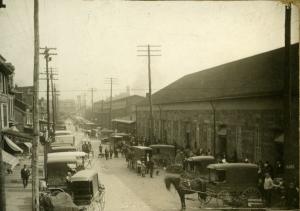 The Broad Street Market was once known as the West Harrisburg Market House and one of several farmer's markets in the city. But when people sought out supermarket shopping in the late 20th century, Harrisburg's system of markets gradually shut down, leaving only the Broad Street Market. Today's trends are yielding food conscious folks who want to know where their food comes from. They are abandoning superstores and chain restaurants to meet and greet with farmers and chefs. From the local produce and meats to a passion for preparing meals on-site, the friendly and fresh Broad Street Market can thrive.
The Market's stewards are committed to preserving the history of the Broad Street Market, not just the buildings themselves but what the Market means to the community as a place for the city's residents to find fresh food. All the vendors at the Market specialize in agricultural products or sell Pennsylvania-made food and goods.
Did you know? The Broad Street Market is on the National Register of Historic Places! The photo above was provided by Historic Harrisburg Association.
Visitor Tips
When to visit
The Broad Street Market is open year-round on Thursdays and Fridays from 7 AM – 6 PM and Saturdays from 7 AM – 4 PM. If you're looking for a vibrant experience, come on a Saturday when the Market is bustling. Once a month, they stay open late for 3rd in the Burg.
Where its located: The Market is centrally located and easy to find. If you're coming down Front Street, turn on Verbeke Street - you can't miss the Broad Street Market sign that sits on top the building! Parking is free for two hours in the spots along the building and the two lots on either side of The Millworks. There's also metered spots on nearby streets, but parking is free on Saturday for 4 hours using the code: LUVHBG
What else is there to do
When you're at the Broad Street Market, you're in the heart of Midtown Harrisburg. Stop by the Midtown Scholar Bookstore & Café to find a good read or stroll around the galleries at the Susquehanna Art Museum.
The best piece of advice we can offer a first-time visitor to the Market is
Take a lap around both buildings before deciding where to eat. There's something delicious every step of the way, so be sure to weigh all of your options! Maybe it's a little of this and a little of that!
Did you know? A local craftsman used wood from bowling alley planks to create tables which he donated to the Market. If you look closely, you can still see the approach dots!