Explore the City by bike, pedaling around Harrisburg doing some sight-cycling or off-roading. Below is your guide to ride including recommended bike trails in Harrisburg, sights along the way, bicycle rentals, and more!
Capital Area Greenbelt

The Capital Area Greenbelt is a 20-mile bike loop through the city of Harrisburg that includes on-road sections and dedicated paved and gravel paths. The Greenbelt has ample options for parking at its trailheads and passes by a variety of landscapes including the Susquehanna River along Riverfront Park.
Length: 20 miles
Type: Paved and Gravel dedicated paths with some on-road sections
Difficulty: Easy
Where to Park: Ample parking available at trailheads including City Island, HACC, and Wildwood Park.
It's up to you where you want to hop on the Greenbelt. With a little planning, you can plot your ride with stops for lunch and attractions.

Things to See Along the Capital Area Greenbelt
Wildwood Park: Wildwood Park is a public recreational area, situated on the edge of suburbia and urban culture. The Greenbelt intersects with the park's Wildwood Way Trail that encircles Wildwood Park lake, a natural habitat for dozens of wildlife species.
Pennsylvania Farm Show Complex & Expo Center: You'll ride past one of the largest indoor exhibition facilities in the east, the Pennsylvania Farm Show Complex, with 26 acres of arena and expo space under one roof.
Reservoir Park & National Civil War Museum: Reservoir Park is a beautiful public green space, perched on a hill to yield excellent views of the city. You'll also ride near the National Civil War Museum, one of the largest in the world dedicated solely to the American Civil War.
Five Senses Garden: Pull over and explore Five Senses Garden, a picturesque space filled with plants that enlighten the five senses from vibrantly colored flowers to sweet-smelling honeysuckle and lavender.
Rev. Dr. Martin Luther King, Jr. Memorial: This hidden treasure pays tribute to Rev. Dr. Martin Luther King Jr. The memorial is only accessible via the Greenbelt and features an 11-foot black granite obelisk and his immortal "I Have a Dream" speech.
City Island: Home of Harrisburg Senators Baseball and The Pride of the Susquehanna Riverboat, City Island is a little slice of Americana pie and filled with classic summer activities. City Island is a popular spot to park, or you can take the Walnut Street bridge for a little 1-mile detour loop around the island.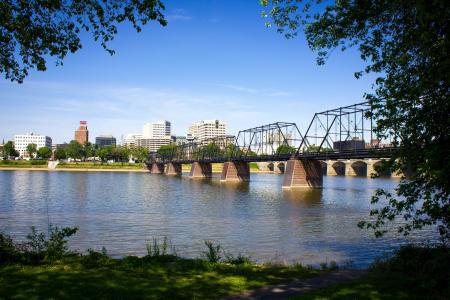 Riverfront Park: You can't miss this one because you'll be riding along it. There's no better place to snap a picture of the Susquehanna River, urban artwork, and seasonal blooms in the Sunken Garden and Peace Garden.
Pennsylvania State Capitol Building: When you roll past State Street, don't forget to turn your head toward the beautiful Pennsylvania State Capitol Building. If you have some time, it's free to take a guided tour.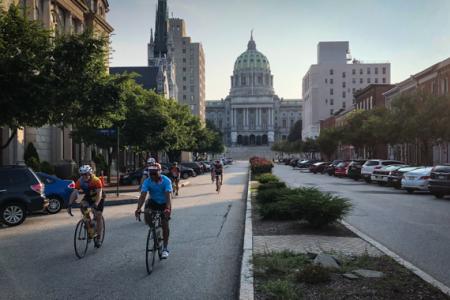 Governor's Residence: This beautiful two-and-a-half-story Georgian-style home in Midtown is used by Governor Tom Wolf and First Lady Frances Wolf for official Commonwealth functions and meetings.
Downtown & Midtown Harrisburg Restaurants: If you're ready for a bite to eat, Harrisburg has dozens of food options from farm-to-fork restaurants with sidewalk tables to grab-and-go food trucks and a bustling farmers market.
Visit Hershey & Harrisburg: It just so happens that you'll ride right by our offices at North Front and Vaughn Streets. Stop in during business hours (8:30 AM to 4:30 PM, Monday through Friday, excluding holidays) and pick up a travel guide, some attraction and dining brochures, and a few pieces of candy to keep you energized on your ride!
Shorter Rides on the Capital Area Greenbelt
Riverfront Park: The super-scenic Riverfront Park stretch is 3.9 miles from Shipoke to Vaughn Streets, and features artwork, sculptures, gardens, and panoramic views of the river. Make it an out and back journey with a stop for lunch in Downtown or Midtown Harrisburg.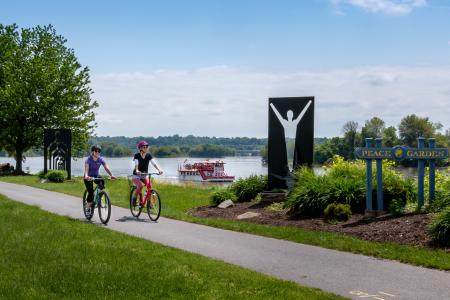 Cameron Street Parkway: This 1.6-mile (3.2 round trip) route includes the Five Senses Garden and the Rev. Dr. Martin Luther King, Jr. Memorial.
Paxtang Parkway: This 1.4-mile (2.8 round trip) path features mature trees that provide shade on hot summer days.
Wildwood Park: Park at Wildwood and take the 3.1-mile loop that includes the Wildwood Way Trail and Towpath Trail. Coming in May 2020 there'll be a Greenbelt extension to explore Fort Hunter Mansion & Park, a 40-acre property filled with Harrisburg history and its share of beautiful views of the water.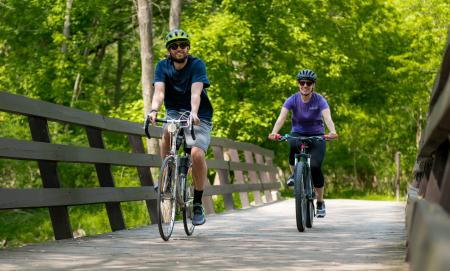 Free Tours of the Capital Area Greenbelt
The Capital Area Greenbelt Association offers free, guided bike tours highlighting Nature, Trail History, Future Trail Plans, and Local History. There's a four-person minimum to book a bike tour, and children must be at least 10 years old with one adult for every four youths.

Pennsylvania Bike Laws
While you're riding around town, it's important to ride responsibly and obey Pennsylvania Bicycle Safety Laws. Here's a quick sampling of our bike laws from PennDOT.
Bicycles are permitted on the roadway in the same direction as the flow of traffic.
Don't ride more than two side-by-side unless you're on a dedicated bike trail.
It is the motor vehicles responsibility to allow 4 feet of distance when passing a cyclist on the roadway.
Allow 4 feet between you and a parked car should they open their door unexpectedly.
If you're riding between sunset and sunrise, you're required to have a headlamp and rear and side reflectors.
Pedestrians have the right of way on sidewalks and bike paths. You are not permitted to ride a bicycle on the sidewalk in a business district or where there is a bike lane available.
Bicycles are not permitted on freeways/highways.
Obey all traffic signals as you would in a vehicle.
Always wear a helmet. It's required for all cyclists under age 12.
Make yourself visible and consider wearing bright clothing.
Bike Shops
Flat tire? Broken spoke? If you encounter an issue with your equipment, here are a few resources for you:
Fixit Stations along the Greenbelt: Use the tools attached to the DERO Fixit Station to adjust brakes and derailleurs and change or inflate your tire. Stations can be found in HACC's parking lot on Industrial Road near the north pedestrian bridge and at the Paxtang Parkway near the Derry Street entrance.

Pedal Pusher Bicycle Shop (Harrisburg)
Enjoy a little sight-cycling in Harrisburg!