Finding great holiday gifts for everyone on your list can be difficult. Our Harrisburg Holiday Gift Guide features unique items and creative ideas that are sure to delight.  
Instead of shopping online or visiting a large box store, consider shopping small this year. Not only does shopping small benefit our local economy and support small business owners, but you might be surprised at the unique, memorable gifts you can put together by shopping in Harrisburg.
Here are a few unique gift ideas that are sure be a hit:
#1 Put Together a Date Night Package
If you are looking for a gift idea for a couple, how about giving them tickets to one of Harrisburg's incredible theater groups, with a gift card to a small restaurant within walking distance? For example, Open Stage and Gamut Theatre both offer award-winning shows all year long and fabulous restaurants such as El Sol, Bricco and Stock's on 2nd are just a short walk away!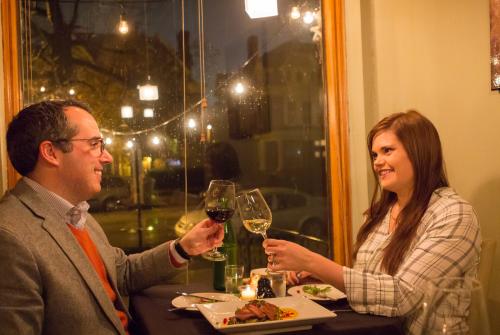 #2 Shop the PA Gift Show
Held at the PA Farm Show Complex, the 2019 Pennsylvania Christmas and Gift Show is one of the largest holiday shows in the country with over 500 vendors selling arts and crafts, candles, ornaments, clothing and toys. Held from December 4th- December 8th, the show is open from 9am to 7pm Wednesday through Saturday, and 9am to 5pm on Sunday. Tickets are only $8 and discounted to $5 after 4pm. Bring the family for a day of shopping and find those perfect stocking stuffers for everyone on your list. 

# 3 Accessories for a Fashionista
Did you know that Harrisburg is home to fashion designer, Amma Jo's showroom? Located in Strawberry Square, Amma Jo's features expertly crafted Italian leather handbags, fabulous scarfs, signature clutches and fashion jewelry. 
#4 Find a 1st Edition Classic
Do you have a bookworm in the family? If so, you are in luck because the Midtown Scholar and Robinson's Rare Books are home to an impressive selection of classic literature, first editions, and modern favorites. Grab a coffee at their cafe and explore five floors of books, artwork and historical prints. Can't decide what to get? How about a gift card and let the recipient enjoy an afternoon of exploration at the Scholar.

#5 Explore the HBG Flea
Featuring local artists and vintage treasures, the HBG Flea is a monthly pop-up market featuring over 60 local vendors. Their Holiday Flea will be held on December 7th at Strawberry Square from 10am to 4pm. You will also have a second chance to shop the Flea in December, with a mini flea popping up on December 20th from 6-9pm at St@rtup Harrisburg, for those last minute gifts.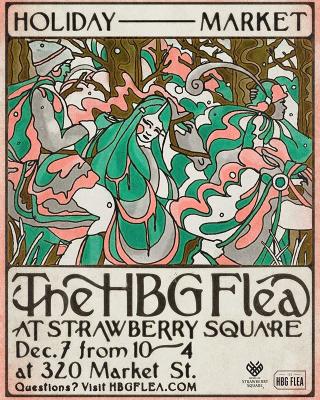 #6 A Sweet Treat
Looking for a gift for your co-workers or clients? Anna Rose Bakery has affordable, delicious Holiday baskets that are sure to be a hit! They have lots of options under $20 and offer extended hours in December.  
 
#7 Handcrafted Gifts
Looking for a unique, handmade gift? Look no further than The Millworks in Midtown Harrisburg. Featuring 32 regional artist studios on three floors, you can find everything from pottery and paintings, to jewelry and framed photographs. Open from from 11:30am to 10pm Tuesday- Thursday, 11:30am to 12am Friday & Saturday, and 10am to 10pm on Sunday, the Millworks offers convenient, free parking on site and a delicious restaurant for you to enjoy after your shopping adventures.  
 
#8 A Red Carpet Evening
For the movie lover in your life, how about tickets to a red-carpet Oscar's party? Each year, the Midtown Cinema on Reily St. hosts a fabulous party complete with the infamous red carpet out front, full catering inside, games, prizes, photo-ops and more! Tickets are now available for the early-bird price of only $35!