Just like a breathtakingly long fireworks display, this year's #HBGMuralFest is spread out over the entire summer. There will be pops of color added to the city's streetscape, now through September, and by the end of the summer, the number of Harrisburg's murals will surpass a milestone—50!
While mural art seems to appear like magic, there's actually a huge network of volunteers, corporate and individual donors, logistics, and coordination happening for months behind-the-scenes at the nonprofit Sprocket Mural Works—before the artists create their colorful designs for the public to enjoy.
"It's incredibly meaningful to add to Harrisburg's collection of welcoming, inspirational murals this year more than ever," said Sprocket president and co-founder Meg Caruso. "We saw the power of murals to uplift the community throughout the pandemic, so now more than ever, we look forward to creating new murals throughout the city for both residents and visitors to enjoy for years to come."
---
---
Where can you find these large-scale works of art?
Pop over to Sprocket's website for a downloadable map of the #HBGMuralTrail. There are 44 murals (as of July 1, 2021) created over the past seven years.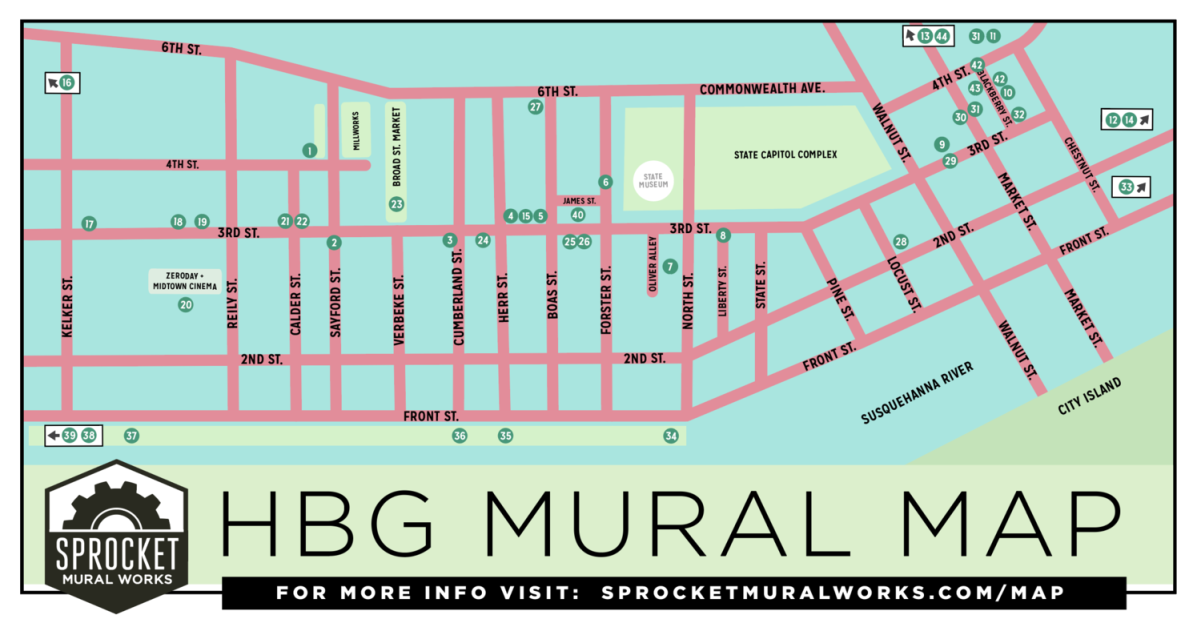 You can also subscribe to Sprocket's updates on their website, and/or follow them on social media, for up-to-the-minute updates on this summer's mural projects. There is nothing like watching a mural come to life, from start to finish!
Mural artists use a variety of fascinating techniques: Some carefully measure and mark a grid pattern onto their wall, then recreate their artwork, block-by-block, from their planned design. Others wait until night falls to project and trace portions of their original design onto their wall, then add colorful paint to flesh out the design over the following days. Some climb scaffolding to reach the upper sections of their walls, while other artists make use of mechanical lifts that take them to dizzying heights. Paintbrushes or spray paint? Every artist makes unique choices during the creation process. It's an amazing treat to witness murals coming to life!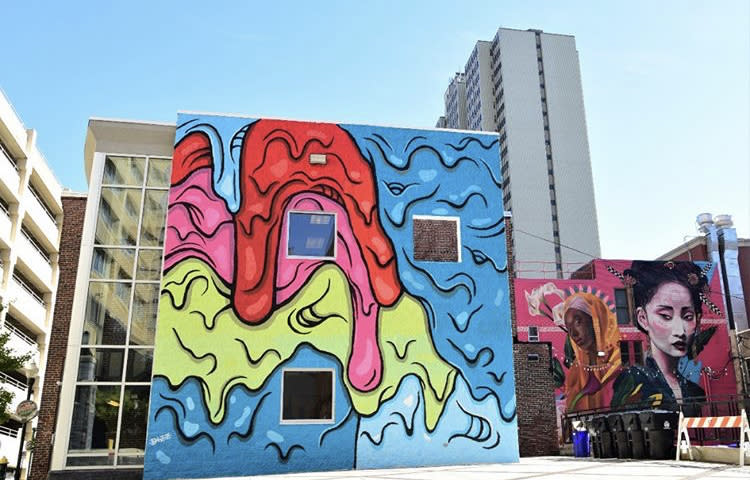 ---
---
In July, two mural projects are planned:
One, at Recycle Bicycle Harrisburg's (RBH) new location, will pay homage to one of Sprocket's first murals created—at RBH's previous location—and the other, at Mid Penn Bank, Steelton, marks Sprocket's first project in the Dauphin County borough and one of this year's largest mural projects.
"It's humbling and rewarding to partner with long-time mural supporters such as Recycle Bicycle Harrisburg, as well as first-time mural sponsors such as Mid Penn Bank," said Caruso.
The nonprofit RBH moved from Atlas Street in Uptown Harrisburg, to an 80-year-old former warehouse at 1722 Chestnut Street, in the Allison Hill neighborhood, in 2019. The nonprofit organization's mission is to provide Harrisburg residents—especially those of limited means—with bicycles as a form of safe, reliable, affordable transportation.
"Recycle Bicycle Harrisburg was grateful to have a mural on our old Atlas Street building, and the public has come to associate our organization's identity with murals," said Jenifer Donnelly of RBH. "We are excited to continue that relationship—it is our hope that we can bring some brightness to our new neighborhood where we already see the gratitude in those receiving and fixing their bicycles."
Sprocket's new RBH mural, slated to be created in July, will pay homage to the previous RBH mural by securing the same artist—Ralphie Seguinot of Harrisburg—who will utilize some of the same stencils he created and hand-cut for the previous mural. He will re-imagine original design concepts into the new mural, for simultaneously original yet familiar artwork. The mural will wrap around the building's front and side, serving as the backdrop for a bright meeting space where people can congregate when a main garage door is opened.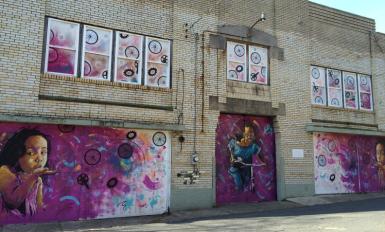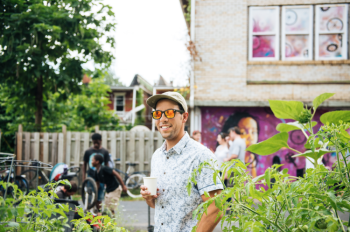 "We discovered Ralphie (pictured above) in 2015 during one of Sprocket's first projects, and his cheerful murals—especially of children's faces—bring joy to many people," Caruso said.  Sprocket is also undertaking a giant mural wall measuring 124 feet in length and standing 10 feet high, at Mid Penn Bank, 51 S. Front Street, Steelton.
"We are looking forward to seeing the mural design develop from the community's voices and input, and to showcase a beautiful piece of public art at our facility," said Heather Hall, Mid Penn Bank Executive Vice President and Market President. "As the only bank in Steelton, we are dedicated to providing support to the community in many different ways. We see this mural as a way to honor Steelton's history and inspire its bright future."
---
---

New Mural Sites:
Sprocket, an all-volunteer organization, is currently assembling community volunteers to prep additional mural sites:
Pocket Park: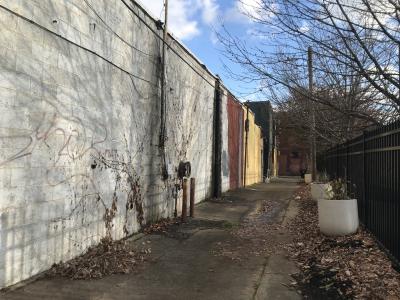 Harrisburg's Patrick Alley is abuzz with activity: It's being transformed from an unused alleyway into a pocket park—with a large-scale honeybee mural scheduled to be added in August, thanks to grant funding by the state Department of Environmental Protection (DEP).
"We're excited to see the mural come to life because it will depict the honeybee population as an example of how climate change is impacting its population," said Kathleen Banski, DEP Environmental Education Program Coordinator. "Using the mural as a springboard to deliver an environmental education message will surely spark conversation and awareness within the community, which is what environmental education is all about."
Over the past months, dozens of volunteers in conjunction with the neighborhood group Friends of Midtown, cleaned the alleyway of litter and weeds. A garden featuring native, pollinating plants, has also taken root thanks to 50 plants donated by Manada Conservancy.
Strawberry Square:
Two new murals will brighten the Strawberry Square shopping district later this summer, thanks to nonprofit real estate development organization and longtime Sprocket supporter Harristown.

Celebrating Black Lives:
A steering committee of community members has begun meeting to plan a "Celebrating Black Lives" mural and evaluate artist portfolios, from those who identified themselves as local Black artists, during Sprocket's call for artists. The group is also evaluating potential mural locations.
And more mural projects will be announced throughout the summer!
---
---
Background: The mission of Sprocket Mural Works is to uplift Harrisburg through art. Sprocket Mural Works is a citywide mural project that works with neighborhoods, artists and organizations to create vibrant community murals across Harrisburg, with creative action serving as a catalyst for increased community pride and civic engagement in Harrisburg. The organization's roots go back to 2014; Sprocket Mural Works became a nonprofit organization in 2019.
For more information:
Website: sprocketmuralworks.com
Social Media: @sprocketmuralworks on Instagram and Facebook; @SprocketMurals on Twitter.