Beginning August 30 and running through September 8, the HBG Mural Festival is adding 14 colorful new murals to the capital city's streetscape. With themes of diversity, nature, community and more, these murals will literally come to life before visitors' eyes. Every day, visitors can glimpse more color and more detail being added to these street-side masterpieces.
The second large-scale mural festival organized and curated by the nonprofit Sprocket Mural Works, the 2019 festival will showcase regional and national artists' work in colorful murals designed to inspire community conversations and connections.
"Harrisburg is an incredible city, and our goal is to make it even more vibrant and beautiful through public art," said Meg Caruso, Sprocket Mural Works co-founder and executive director. "Harrisburg residents and sponsors have so much heart, and we are consistently humbled by their support. It would be impossible to create 14 new pieces of public art without them."
The 2019 festival's artistic talent ranges from first-time muralists to regional and nationally-known muralists. Artists and themes—both reflecting diversity—were determined by carefully considering the city's spaces.
Mural highlights include:
Influential musician Jimi Hendrix
A female African American astronaut
Numerous depictions of multicultural women
Harrisburg children painted from actual photographs
Wildlife integral to the nearby Kittatinny Ridge (Blue Mountain)
An interactive mural depicting wings, in front of which visitors can stand for photos
Numerous abstract works including one in which visitors can contribute brushstrokes of their own
And the largest-scale mural, along the Capital Area Greenbelt, will challenge visitors to "rethink waste" with an environmental theme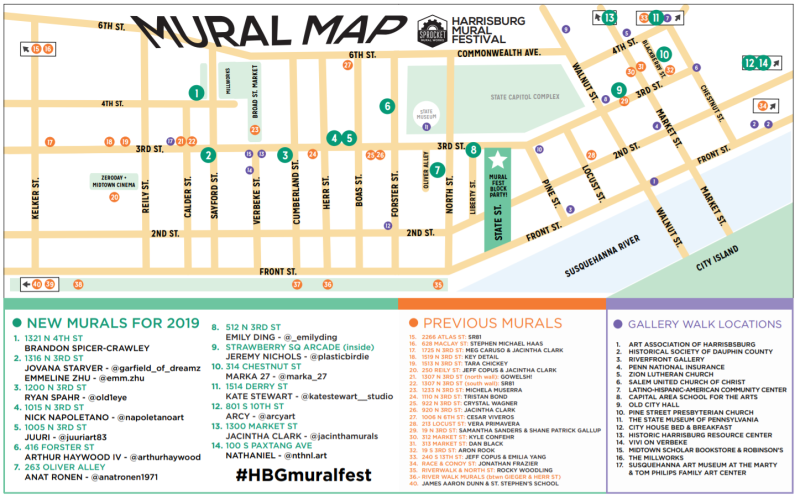 "The placement of this year's murals helps to add density of public art to downtown and midtown, creating Harrisburg's first Mural Trail. We view the murals as an outdoor museum, where visitors and residents can be touched and uplifted by vibrant art as they move through the city," said Caruso.
Festival Events
In addition to the artist painting throughout the festival, there are several events for the public to enjoy, including parties, runs, bike tours, an artist Q & A session, and the opportunity to help paint. The festival will culminate in a free block party on September 8. All 2019 Harrisburg Mural Festival events are free and open to the public.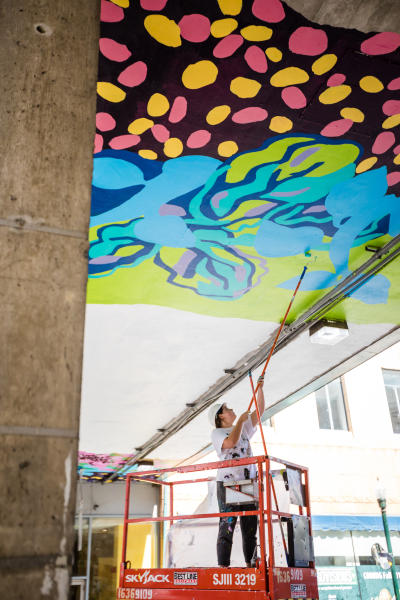 Mural creation: Friday, August 30–Sunday, September 8 at 12 sites, launching in conjunction with Kipona. Visitors can witness the murals coming to life as artists work throughout the city, including many along the 3rd Street corridor.
Mural Artist Q&A Hosted by HYP: Tuesday, September 3 from 6-7pm, Midtown Cinema. Guests can enjoy an evening with local, national and internationally known muralists as they are interviewed on stage.
Sprocket Party: Thursday, September 5, 5-8pm, Zeroday Brewing Company. Zeroday will host a party to celebrate Mural Fest with live music, Sprocket swag give-aways, and a special Sprocket Mural Works firkin of beer on tap.
Mural Run: Thursday, September 5th, 6-8pm and Saturday, September 7th, 12-2pm, ZeroDay Brewing Company.  These two free running/walking tours of the murals throughout the City, will also offer guests a glimpse into the murals being created during the festival. 

Colorful Bike Tour : Sunday, September 8, 12-3pm, Key Detail's Mural.  Dress colorfully and ride your bike as you tour the 2019 Mural Festival creations.

Community Mural Paint Day: Saturday, September 7, 11 am-3 pm, Zeroday Brewing Company. Attendees have the opportunity to paint fabric that will later be installed throughout the city to brighten blighted properties.

Closing Block Party: Sunday, September 7, 12-5 pm, Pennsylvania State Capitol. All community members, residents, visitors, sponsors, supporters, artists, neighbors and friends are invited to a block party on State Street. Located between 2nd and 3rd Streets, this free party will feature entertainment, food trucks and fun activities organized by the Harrisburg Flea.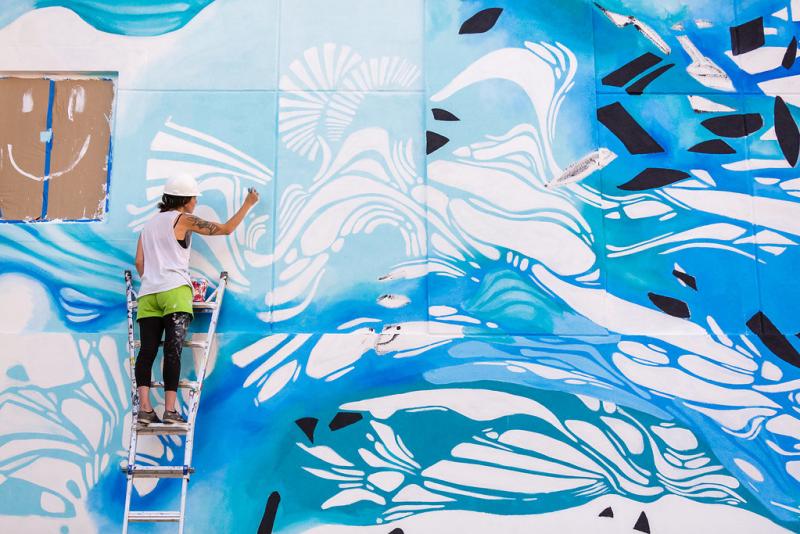 "Murals are much more than a beautification project. Art has a transformative power to spark community and connections, and influence how people feel about their space," Caruso said. "Our deepest hope is that our efforts will make residents feel uplifted and proud of our city."
For more information, visit sprocketmuralworks.com; follow Sprocket on social media @sprocketmuralworks on Instagram and Facebook; @SprocketMurals on Twitter.