The City of Harrisburg's 5th annual Ice & Fire Festival presented by M&T Bank returns on Saturday, March 5, 2022. There will be nearly 60 ice sculptures throughout the City and a street festival in the Downtown area from 11am-8pm. Read on to find out everything you need to know to plan your trip to this free event!
Ice Attractions

There will be 59 ice sculptures, including 6 life size ones, throughout the City in Downtown, Midtown, City Island, Italian Lake, Reservoir Park and Shipoke. The sculptures will be illuminated in various colors from 7-9pm. Designs include a throne, alien in spaceship, pelican, peace sign, basketball hoop, beer mug and more. Attendees are encouraged to participate in the ice sculpture scavenger hunt contest for the chance to win gift cards to local businesses. Simply scan the QR code at each ice sculpture you visit and enter your email on the online form you are directed to. You must visit at least 10 ice sculptures for the chance to win. All contest rules can be found at harrisburgpa.gov/ice. Be sure to use the map found at the website so you don't miss any!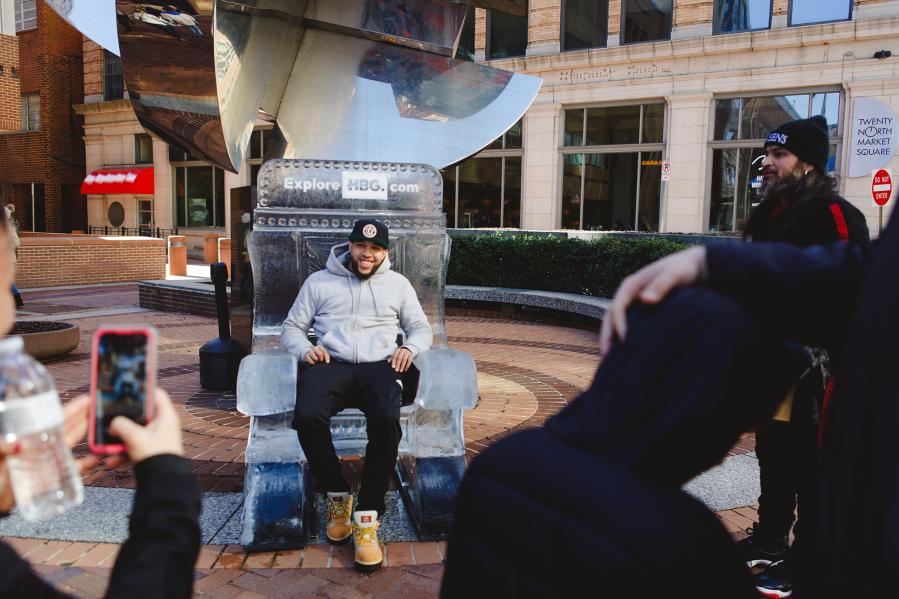 Wondering how these ice sculptures are created? Stop by Riverfront Park at Pine Street between 2-3:30pm for a live carving by one of the talented sculptors of Ice Concepts. They will use chainsaws and other tools to turn blocks of ice into a pair of wings – the perfect photo op! Local Muralist & Ice Carver Katie Trainer will also be doing two live carvings at the Harrisburg Beach Club on City Island starting at 2:30 until sunset. These will be her 11th and 12th ice sculptures so far. Stop by to meet her and support her as she showcases her talents.
Attendees of all ages can also take a thrilling ride down the giant ice slide located in Riverfront Park at State Street throughout the festival. There is no fee to ride.
Fire Attractions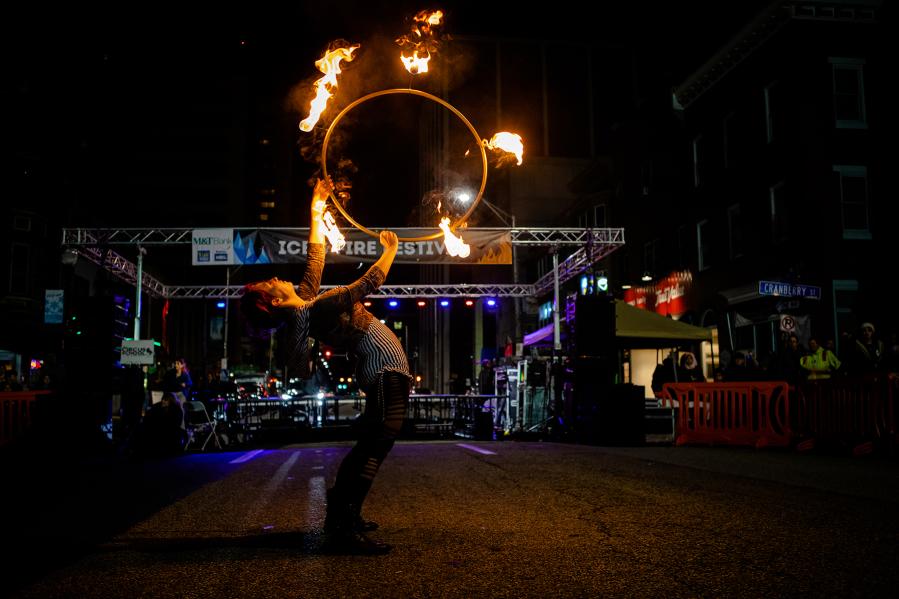 The element of fire will come to life with a series of fire dancer performances by Skylark Circus in front of the entertainment stage on Front Street at 4:30pm and 7:30pm. Local community and school groups will also perform on the stage throughout the day. Performances include dance groups, jazz bands and vocal groups.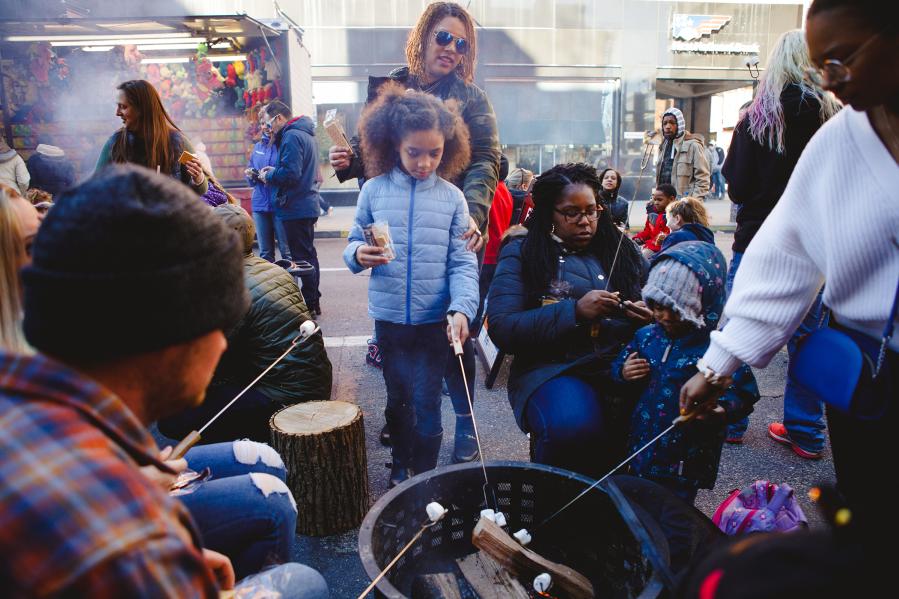 If you need a place to warm up during the festival, head to the firepit lounge or heated seating tent. More than 200 free smores kits will be distributed each hour for attendees to roast at the fire pits, courtesy of Karns Foods.
Food & Drink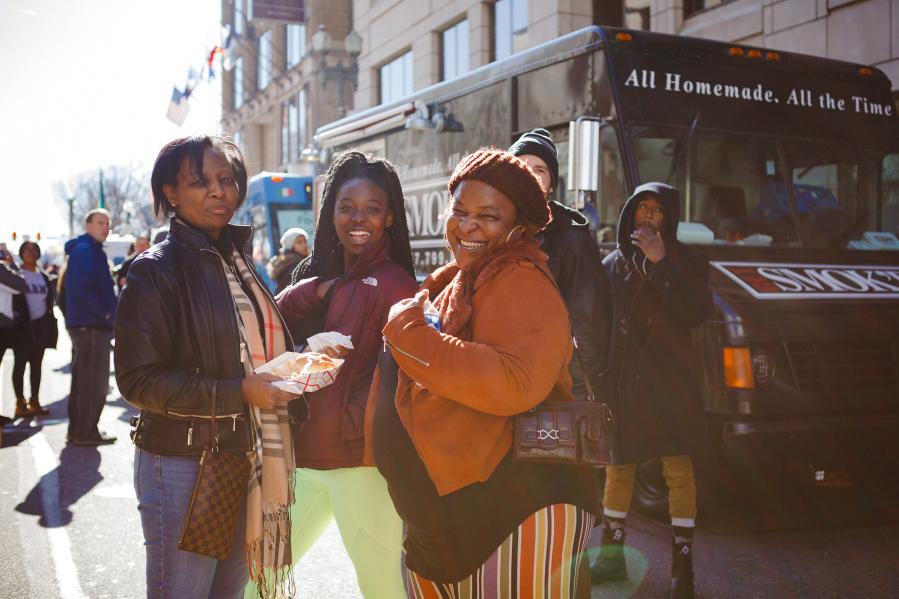 Come hungry because there will be no shortage of delicious food and beverages to try throughout the day. There will be 14 food trucks serving specialty tacos, burgers, funnel cakes, stuffed waffles and pretzels, cheesesteaks, bbq and more along Front Street. A complete foodie guide with menus from each truck and dietary options, such as gluten free, vegetarian and vegan, is available on the event website.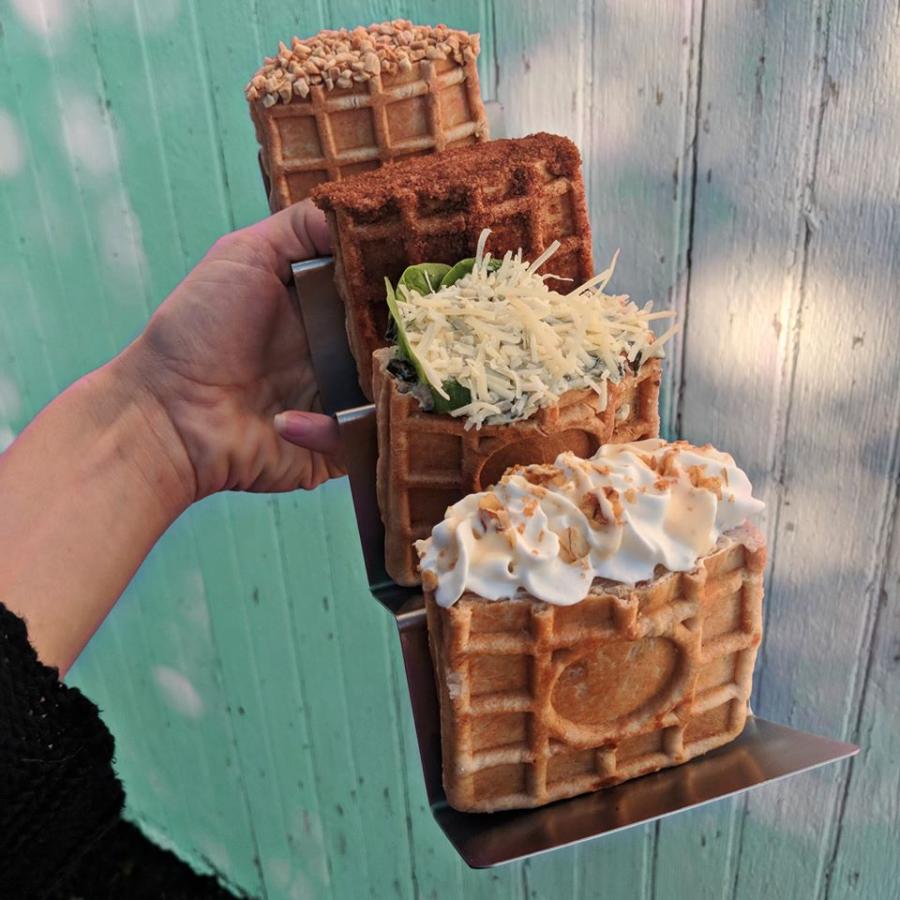 Businesses throughout the City will also be offering a variety of ice and fire themed cocktail, coffee and other drink specials.
For our spicy food enthusiasts, Urban Churn returns with a vengeance to the Ice & Fire Festival stage at 5:30pm for the Frozen Inferno Challenge. They have taken their spicy ice cream recipe up a few notches and are looking for 12 brave contestants to try to consume a 6-oz scoop within the allotted 2 minutes. Those interested in participating can sign up at https://urbanchurn.com/frozen-inferno by February 28 for the chance to be one of the randomly selected participants.
Artist Markets & Workshops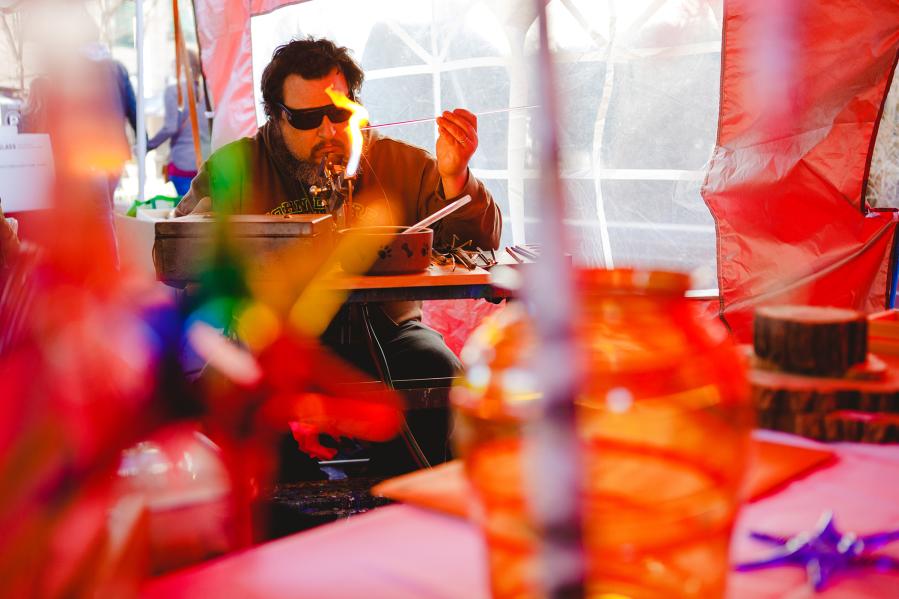 Come ready to shop for one of a kind jewelry, pottery, apparel, bath and body products, candles and more from the artisans set-up along Front Street from 11am-8pm. The HBG Flea will also be happening in Strawberry Square from 10am-4pm for attendees to shop even more artisan wares.
Those looking for a hands-on art experience can sign up for a DIY glass icicle workshop with Glass Artist Michael Peluso. The workshops are $40/person and will be held at 12pm, 1pm, 2pm and 3pm along Front Street. Register in advance here or walk-up day of (space permitting).
More Family Fun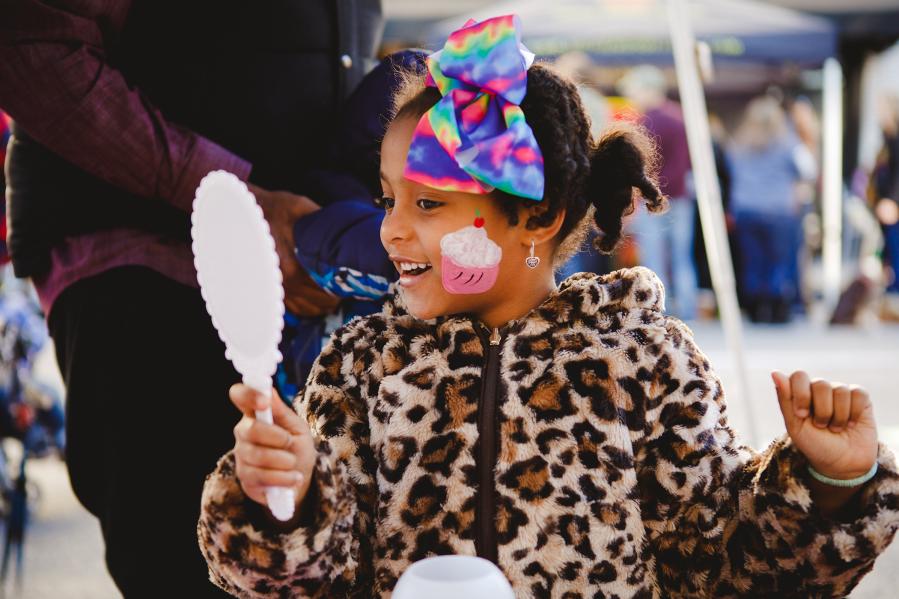 Kids will enjoy a variety of free activities throughout the event, including face painting and balloons animals along Front Street. The Whitaker Center for Science and the Arts will offer a free snowflake STEAM activity from 11am-3pm and their Science Center and Digital Cinema will be open from 9am-3pm for standard admission rates. The Civic Club of Harrisburg will host a free ice themed food art craft and snowflake design activity and the McCormick Riverfront Library will offer free kids craft kits and giveaways.
South Mountain Carriage will be offering horse-drawn carriage rides around City Island between 1-6pm. Rides are $45 for up to 4 adults and depart from the carriage house, just before the Harrisburg Senators stadium entry. Walk ups are welcome or you can make an advanced reservation by calling Cindy at 717-802-1919.
Don't miss a stop at the Hit the Angles 360 Photo Booth on Front Street! The camera spins around you to create dynamic gifs and boomerangs delivered straight to your phone. Attendees can try this unique photo booth experience for free throughout the event.
Plan Your Visit
Now that you know all the fun activities that will be happening during the festival, let us help you with planning your route, parking, transit options and places to stay.
Program Guide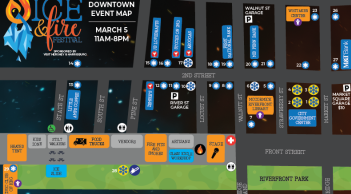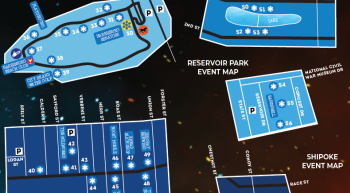 Download full Program Guide to see Foodie Guide, ice sculpture placements, drink specials and more! 
Parking
Free parking will be available in the lot on City Island, lots #2 & #4 near Reily & Logan Streets in Midtown courtesy of Greenworks Development, the 2 hour public parking lot at Verbeke and Fulton Street in Midtown and the lot off of Reservoir Dr in Reservoir Park. In the Downtown area, the Market Square Garage is $10 from 9am-10pm courtesy of Park Harrisburg or you can use the code LUVHBG to get 4 hours of free street parking prior to 5pm (its free after 5pm). You can also utilize the River Street, Walnut Street and Chestnut Street Garages for their standard rates. Metered street parking is also available throughout the City.
The train station is conveniently located in the Downtown area just steps away from ice sculptures and the street festival. There are also bus stops throughout the City.
Accommodations + More
To make the most of your trip to the City, consider staying the night in a hotel or bed and breakfast so you can continue your explorations the next day. Find all the best accommodations in the City on our website. The ice sculptures, weather permitting, will still be in place to view and there are several great brunch options, a mural trail, Brew Barons Beer Trail, Sweet Treat Trail and more attractions to keep you busy all weekend long.