On Saturday, November 20 the City of Harrisburg's Holiday Parade will return to downtown Harrisburg following a reverse parade in 2020. The 2021 parade theme is Merry & Bright. The parade steps off at 10am and will feature 5 high school marching bands, 8 performance groups, local celebrities, musical acts, decorated floats, costumed characters, Santa Claus and more.
---
Large Parade Balloons

Large parade balloons, provided by PA-based Starbound Entertainment, will complete the entire parade route and feature cold air balloon designs. Two favorite PBS character balloons will be featured - Buddy the Dinosaur from Dinosaur Train and an 18-foot Daniel Tiger holding his friend Tigey. A 12-foot green Nutcracker and Rudolph will also progress through the parade.   
Parade Route, Parking and Planning your Viewing Spot
The parade route makes a loop on Front and 2nd Streets from Market to North Street. The route begins at the intersection of Front & Market.  The entire loop spans 1.5 miles allowing for ample space to socially distance and safely kick off the holiday season. There are two designated areas for groups to stop and perform along 2nd Street at Market and State Streets. View the parade map here.
The Market Square Garage will offer a $10 special event rate from 8 a.m. until 8 p.m. courtesy of Park Harrisburg. In addition to the discounted garage rate, parade attendees can utilize the ParkMobile App to get up to 4 hours of free street parking in the Downtown area using the code "LUVHBG." The Market Street bus stop is directly beside the parade route and the train station is 2 blocks away.
Market Street (including the bridge) will close from the West Shore to 2nd Street at 7am. Second and Front Streets from Market to Forester Streets will also close at 7am.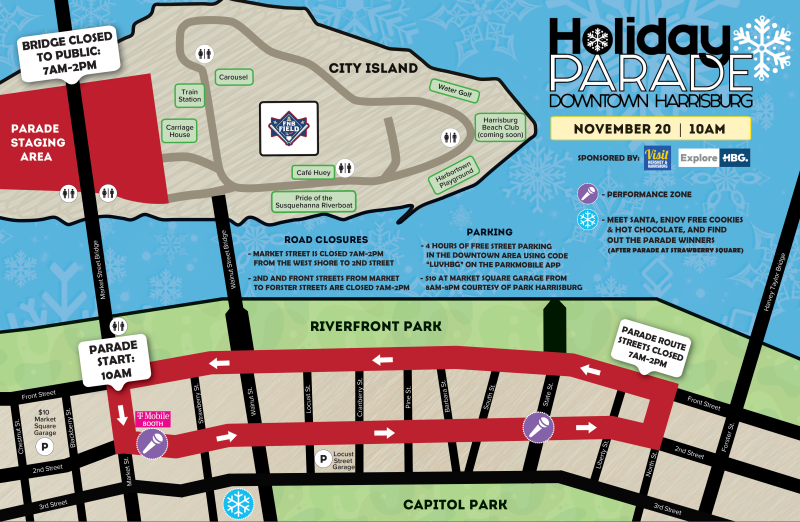 Before and After the Parade
Before the parade, grab a cup of coffee or cocoa from a local coffee shop. See below for locations offering specials:
Denim Coffee (7:30am-3pm) - Enjoy their Fall featured drink, a Pumpkin Spice Latte and Frappe. 
Good Brotha's Book Café (8am-5pm) - Mention you are going to or went to the Holiday Parade at checkout to receive 10% off your drink order. There will also be a holiday themed drink special.  
Little Amps (8am-3pm) - Free drip coffee, any size, with purchase of a bag of beans or box on instant coffee.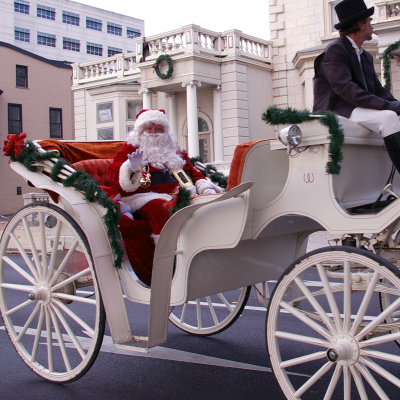 Following the parade, join Santa for free hot chocolate and cookies in Strawberry Square, while supplies last, followed by the awards ceremony. Awards will be given to the top Dance, Step & Drill Team Units and cash prizes will be given to the top High School marching bands. All parade participants are eligible to enter the "Best in Theme" contest to win an award and gift card.
While you are in the City, be sure to grab lunch from one of the many delicious restaurants and get some holiday shopping done at the shops and boutiques.