Calling all morning caffeine seekers, afternoon coffee hunters and sweet aroma seekers... Harrisburg is home to unique flavors and inviting atmospheres that you won't find at national coffee shop chains. From craft-roasted beans, to cold-brew tricycles and cookie frappes, these cafes are definitely worth a visit!
---
---
Elementary Coffee
Elementary Coffee prides itself on using sustainable practices and craft-roasted beans to serve a delicious variety of drinks from the perfect cup of coffee, to cold brews and home brews. They have two locations in Harrisburg:
At the Broad Street Market, 1233 North 3rd St. Harrisburg, PA 17102 (Thur/Fri: 7am - 5pm & Sat.: 7am - 4pm)
At 256 North St., Harrisburg, PA 17101 (Mon/Fri: 7:30am - 3pm & Sat/Sun: 8am-3pm)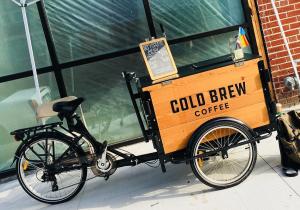 Their delicious drinks, warm and cozy atmosphere, and friendly service make Elementary Coffee a must-stop on your caffeine hunt. Elementary also offers their custom-created cold-brew tricycle, which can be reserved for your next event, block party or festival! Check out their online shop to order your favorite beans or branded swag.   
---
---
Little Amps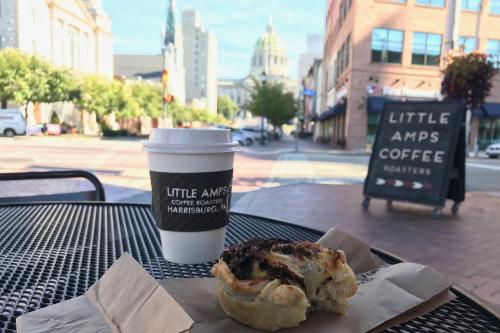 Little Amps Coffee Roasters is a micro roaster in Harrisburg known for their delicious coffees, espresso drinks, breakfast sandwiches, delicious baked goods, and a passion for music. They even offered a "bundle" featuring a cup of coffee, Little Amps mug and a vinyl record of Get Better Records' upcoming album, "Sunday, Someday."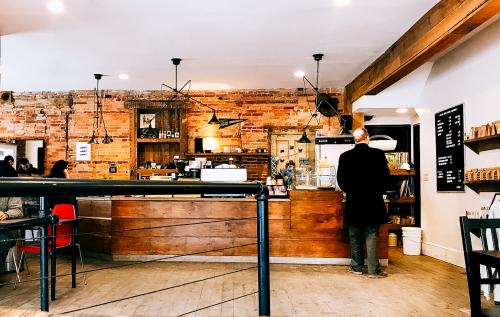 Little Amps has three locations, all within the City of Harrisburg:
Downtown at 133 State Street, Harrisburg, PA 17101 (8am to 3pm, 7 days a week)
Uptown at 1836 Green Street, Harrisburg, PA 17102 (Mon/Fri: 7am - 2pm & Sat/Sun: 8am-2pm)
& Inside Strawberry Square at 320 Market St. Harrisburg, PA 17101 (temporarily closed)
---
---
Good Brotha's Book Cafe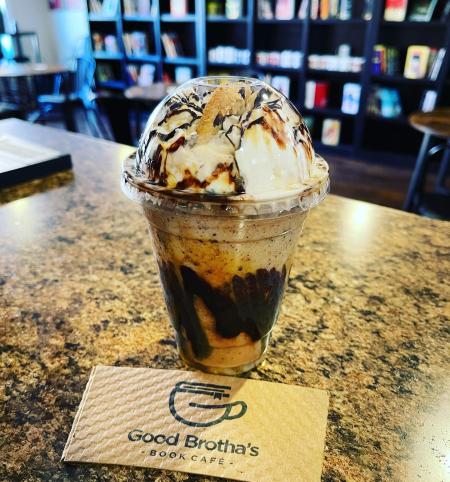 In January, 2021, Good Brotha's opened their doors at 1419 North 3rd St. in Harrisburg, offering delicious frappes, coffee, pastries and an incredible collection of Black literature.
All of the coffee at Good Brotha's comes from California roaster Fifth Acres Coffee co., and the baked goods come from Cece's Cake Shop.  The cafe is designed with plenty of seating along the rows and rows of books, so grab a cup of coffee and browse your favorite author, or discover a new book! 
Good Brotha's is open Monday-Friday from 7am to 3:30pm and on Saturdays from 8am to 3:30pm.
---
---
Denim Coffee 
Located just across the street from the Capitol Building, Denim Coffee offers a large menu including coffees, smoothies, espresso and fresh bakery treats. Open Monday through Sunday from 7:30am to 3pm, Denim is open for takeout, indoor and outdoor seating.
They source their specialty coffee from all around the world, including Nicaragua, Guatemala, Kenya, Ethiopia and Honduras! For coffee lovers, Denim offers a "subscribe & save" program for home brews, where customers can enjoy weekly deliveries of roasted specialty coffees delivered straight to their homes. Visit their subscription page for more details. When asked what he recommends, founder Matt Ramsay suggested, "You can choose any of our freshly-roasted coffees on the pourover bar.  Anything from the espresso bar is going to be dialed in and you've got to try the baked goods which are made in-house!"