One of Central PA's largest end-of-summer traditions continues with the 103rd Kipona Festival along the banks of the Susquehanna River. Held over Labor Day weekend, August 31 – September 2, this three-day festival attracts over 70,000 guests each year, and features attractions for the entire family.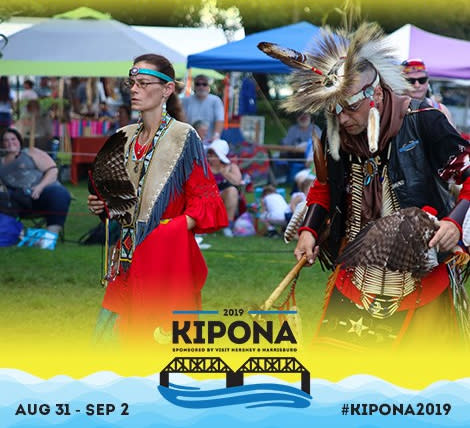 Returning this year, will be the Native American Pow Wow, two live music stages with more than 30 bands, 35 food vendors, Paws in the Park activities for furry friends, a biergarten featuring Zeroday Brewing Company, canoe races and so much more!
Festival Schedule:
Saturday, August 31st from 11am to 8pm
Sunday, September 1st from 11am to 8pm
Monday, September 2nd from 11am to 7pm
Here are 10 new attractions that you won't want to miss at the 2019 Kipona Festival:  
 
1. Tightwire "Fire Walk"
The Great American Tightwire Walkers will return to the Festival with a series of dramatic tightwire walks above the Susquehanna River. New this year is a "Fire Walk" illuminated with fire torches and fire breathing! The "Fire Walk" will be held on Saturday, August 31 at 8:15pm. Additional tightwire performance times are Saturday at 12pm, 2pm & 4pm, Sunday at 12pm, 2pm & 4pm and Monday at 12pm & 2pm.
2. Festival of Colors (Holi)
Festival of Colors, Holi, signifies new life, new growth and new beginnings. This celebration, being held on Saturday from 11am to 3pm, entails tossing an array of colorful powder into the air and onto each other. Participants should dress to get covered from head to toe in color! Holi HBG t-shirts and color powder packs will be available for purchase.
3. Roller Skating Rink
Roller skaters of all ages can glide along a 90-ft rink set up in Front Street on Sunday, September 1. Skate rentals and admission to the rink are free! Skaters are permitted to bring their own personal inline, quad skates and roller blades. The skating rink will provide spectacular views of both the Capitol and Susquehanna River. The State Street stage, located alongside the rink, will offer non-stop live music entertainment for skaters.
4. Expanded Family Fun Zone
There will be several fun, free activities including face painting, caricatures, kids craft, live entertainment and more throughout the Festival. The Kids Stage will feature acts from the Popcorn Hat Players, Magician Eddy Ray, Ryan the Bug Man, Harrisburg Improv Theatre, Tha' Maniacz and Legacy Dance Groups, storytime with local author Debra Hervitz and more. Carnival games, a 100 ft fun slide, sand art and other small fee activities will also be available. Kids ages 9-16 can also play street soccer games on Monday from 11:30am – 3pm, organized by the JT Dorsey Foundation. The Rubber Duck Race featuring hundreds of yellow rubber ducks floating down the Susquehanna River will be held on Sunday at 6pm and is fun for all ages. Ducks can be purchased online in advance or at the Festival to benefit Making Strides Against Breast Cancer. Families will also enjoy the fireworks show launched over the Susquehanna River from City Island on Sunday, September 1 at 8:15pm.
5. Bubble Festival
Come see Grandpop Bubbles as he creates the biggest bubbles you will ever see – some as large as 70 feet! There will also be a variety of wands and plenty of bubble juice for everyone to have a day of bubble fun! This event is completely free and can be found within the Family Fun Zone from 11am to 7pm on Monday, September 2.
6. Recovery Walk
Those looking to stay active while supporting a good cause can participate in a walk happening on City Island during the festival. Join Dauphin County for the third annual Show Us Your Purple - Recovery Walk in support of Recovery Month on Sunday, September 1 at 9am. The walk aims to increase awareness and understanding of mental and substance use disorders while celebrating the people and loved ones of those who recover. Register for free here.
7. Rock Wall Climbing
Think you can climb to the top of a 25-ft high rockwall? Try it out for free on Saturday, August 31 from 11am to 8pm.
8. Pilates and Plants
On Monday, September 2, join Sculpt Pilates and Barre for a Pilates mat class and herb planting workshop.  Come workout your muscles and your "green thumb"! The class is open to participants of all ages, abilities and fitness backgrounds. Mats will be supplied by the studio and Plantscapes by Design will provide the materials, instruction & recipe ideas for the herb gardens. Registration is $15 and can be done here.  Space is limited to 50 participants.
9. Enhanced Artist Market
The Artist Market is returning with nearly double the vendors this year! Over fifty artisans will sell a variety of handcrafted items such as jewelry, artwork, apparel, pottery, glass works, bath and body products, home décor and more.  Visit the Artist Market Facebook event to see a list of participating vendors and come ready to shop for one of a kind items! 
10. Kayak Races
The longstanding tradition of the annual Dick Reese Canoe Races continues with the addition of kayak races this year! The races will be held on Monday, September 2 at 10am with one- and three-mile canoe and kayak races. The races are open to all ages and abilities. Seventeen-foot canoes will be provided or participants can bring their own canoe or kayak. Races will begin along the banks of Riverfront Park at Pine Street.  Those interested in participating can register for a small fee in advance or at the Canoe Club of Harrisburg vendor space at the festival. Proceeds will benefit Harrisburg Inspiring Connections Outdoors, a volunteer organization of the Sierra Club that provides outdoor experiences to Urban Youth.
Parking Guide
Street parking is free on Sunday and Monday and attendees can get 4 hours of free street parking on Saturday using the code LUVHBG in the ParkMobileApp. For those who prefer covered parking, the Market Square Garage located on Second Street, will offer a $10 special event rate from 10am to 10pm. Parking on City Island will be $5 and valet bike parking, provided by Recycle Bicycle Harrisburg, will be available at Market & North Streets. 
Your Complete Video Guide to Kipona: