Saddle Up. Get Your Ducks In A Row. You Butter Be Coming!
The PA Farm Show returns to Harrisburg, January 4-11, 2020.

As the largest indoor agricultural exposition in the country, the PA Farm Show welcomes more than half a million visitors each year, along with 6,000 animals, hundreds of exhibits and vendors, dozens of demonstrations and contests, and one incredible butter sculpture! With 24 acres of agricultural entertainment, where does one begin? Check out our PA Farm Show Guide with must-see activities, essential eats, what's new, and pro tips:
Must-Sees and Dos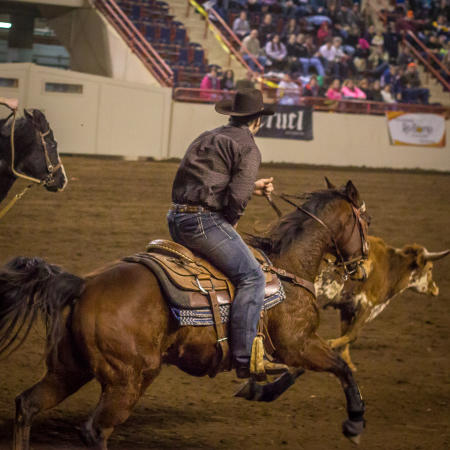 The PA Farm Show boasts eight full days of shows, competitions, demonstrations, and exhibits. If you're having trouble deciding what to see and do, here are a few crowd favorites!
At Sheep-to-Shawl, the crowd can watch speedy sheep shearing, resulting in piles of sheep's wool that get spun and weaved by a team of artisans into beautiful competition shawls. Angora rabbits are the fluffiest around, and rabbit breeders weave angora fibers from the bunny to the loom at Angora Palooza. If you like rabbits, don't miss the Celebrity Rabbit Hopping competition where kids with show bunnies are paired with local personalities as the cotton-tailed competitors hop along an obstacle course.
The PA Preferred Culinary Connection stage features cooking challenges and samples. Cooks representing the U.S. Army and the U.S. Navy go head to head in a "Chopped"-style contest to prep best meal from a box of miscellaneous ingredients. Another sweet treat is the Ice Cream Scooper Competition to see who can pile the most ice cream on a cone before time runs out!
See the 'Greatest Show on Dirt,' the First Frontier Rodeo Circuit Finals, Jan. 9-11. This is a ticketed event, and you'll need to purchase tickets in advance. But the excitement is worth the purchase!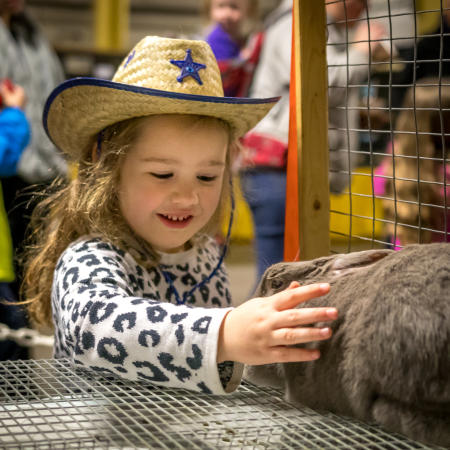 You're going to get your steps in walking around the PA Farm Show. Make the trek even more enjoyable as you and the family become PA Farm Show AgExplorers! Follow the map to roughly 20 interactive stations throughout the complex to learn about all things PA Agriculture, like maple syrup production, mushrooms, veterinary medicine, PA wildlife, forestry with the step-on PA Woodmobile, and more!
Swig some complementary samples of Pennsylvania craft beer! In 2019, new classes were added for over 150 craft brews. This year you can sample the Best in Class, Best of Show and PA Preferred® Legacy Award winners.
Shop the PA Marketplace and bring home an armload of incredible Pennsylvania-made products from hot sauce and jerky to candy and snacks. Check out the roadside stand-style Farmer's Market in the Main Hall with cheese, maple, honey, vegetables, and apples - all fresh, Pennsylvania products - ready to purchase in bulk.
Like many PA Farm Show fans, you might be coming to see the herds of animals large and small. Here's when you can visit your favorite barnyard pals outside of competitions:
Horses: All week
Rabbits: All week
Poultry: All week
Goats: All week
Pigs: Saturday, Jan. 4 to Sunday, Jan. 5
Beef Cattle: Saturday, Jan. 4 to Tuesday, Jan. 7
Dairy Cattle: Wednesday, Jan. 8 to Saturday, Jan. 11
Alpacas: Tuesday, Jan. 7
Lambs: Saturday, Jan. 4 to Tuesday, Jan. 7
Sheep: Wednesday, Jan. 8 to Saturday, Jan. 11
Say 'Happy Birthday' to one of the baby calves born each day of the show at the Calving Corner.
What's New This Year
If you're a PA Farm Show aficionado, here are some of the new additions to the 2020 PA Farm Show:
Chelee Warriors Mounted Archery: Experience unparalleled athletic skill and equine beauty at this exciting new addition!
Expanded Rabbit Competition: There's more fluffy fun coming in 2020, including Siamese Sable Britannia Petites (weighing just 2.5 pounds, aww.), Tan Belgian Hares, and Black, Brown, and Fawn Silvers.
AKC Dog Competitions: As far away from the rabbits as possible, Dog Law Enforcement brings AKC Meet the Breeds and Working Dog Agility Demos.
Low Stimulation Shelters: PA Farm Show is adding a few quiet, peaceful escapes from the crowds for those with sensory challenges.
For all the PA Farm Show happenings, check out the full schedule.
Essential Eats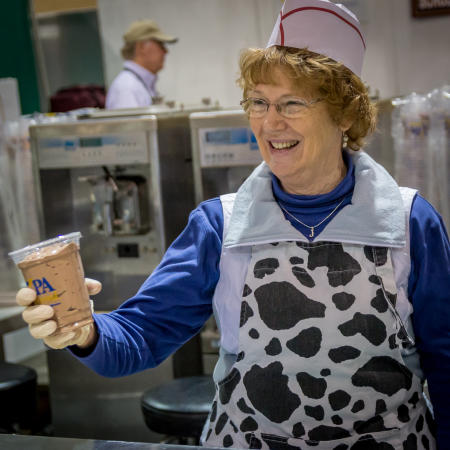 It's very important that you arrive hungry. With a weeklong celebration of agriculture and farming, you know the food is going to be fresh and delicious, which is why The Food Court is so popular! Remember, New Year's resolutions don't count in Pennsylvania until after the PA Farm Show is over.
Despite the January weather, these legen-DAIRY milkshakes are a must. Last year, the PA Dairymen's Association churned out 23,000 shakes a day. With demand like that, they've got to be good! Get several days worth of calcium with toasted cheese sandwiches and deep-fried mozzarella.
After your milkshake, warm up with the new Chiques Creek Hemp Tea. Try three different flavors – original, passionfruit-mint, and peach-lemon-dandelion – made with Pennsylvania hemp seed oil (not CBD).
New to the lineup of sweet treats, Fried Berry Oreos join fan-favorites apple cider donuts, honey ice cream, and funnel cakes.
If you thought you knew all the ways to eat a potato, sample the potato doughnuts by PA Cooperative Potato Growers, Inc., made hot and fresh before your eyes.
Embrace the homegrown taste of Pennsylvania Dutch cooking. Goulash and meatloaf to chicken pot pie and pepper cabbage, traditional Pennsylvanian meals are good for the soul.
When you're in the mood for a fresh crunch, the PA Vegetable Growers Association offers everything from salads and wraps to batter-dipped veggies and blooming onions. New this year, a plant-based, guilt-free alternative to cheesesteak, the Philly Port Sandwich from Mushroom Farmers of PA features PA-grown Portobella mushrooms seasoned with garlic and onions.
It goes without saying that you'll find a seemingly endless array of savory sandwiches, from pork barbecue and beef brisket, turkey burgers and sausages. How about a walking goat taco or a lolly porkchop. PA Livestock Association is adding gluten-free meatballs and a Sausage O' the Day to their meaty menu. You'll just have to see for yourself!
Things You Don't See Every Day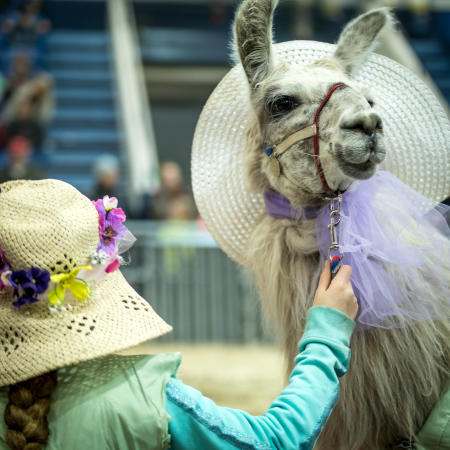 The PA Farm Show is a lot of what you'd expect—farm animals, tractors, and competitions—and some things you don't see every day, like a sculpture made entirely of butter. The American Dairy Association North East keeps its carving design a secret until its revealed, but we can tell you that it will be chiseled with roughly 1,000 pounds of golden goodness. In case you're worried that so much good butter will go to waste, they use expired butter that would have otherwise been discarded!
You probably expected to see lots of animals, but how about animals in costume? Alpacas are quite agreeable when it comes to clothing and happily don dresses, boas, wigs, hats, jerseys, and other creative apparel for a one-of-a-kind farm fashion show and costume contest.
While you can imagine that square dancing has a home at the PA Farm Show, it's a unique sight to behold when the arena floor is filled with hundreds of dancers spinning and twirling their teams toward a blue ribbon. If you think their performance takes coordination, wait until you see the tractors. What? Yes, tractor square dancing is the quirkiest attraction and a big crowd pleaser. Witness eight tractors circling and promenading with expert precision.
Pro Tips
There's so much to see and do (and eat) at the PA Farm Show! Wander around, pick a show or two to see, but set aside about 3 hours to explore. Make your Farm Show experience as hassle-free as possible with these traveler tips:
Admission: It's FREE to visit the PA Farm Show.
Best Times to Visit: The ideal time to visit is between 9 AM and noon. The busiest times are weekends and weekdays from 3:30 PM to 5:30 PM.
Getting Here: Before you reach the Hershey Harrisburg Region, download the PA 511 app for the latest travel alerts and traffic maps. There's a Farm Show function that can help you avoid snafus in and around Harrisburg.
Parking: It costs $15 per car at all PA Farm Show Complex lots. At peak times the main parking lot can fill up. Stay tuned to Facebook for lot updates. You can also unload everyone at the main entrance of the Cameron Street Lobby, then park the car in the lot. Free shuttle service is available.
Getting Around: There's a lot of walking at the PA Farm Show, and for those visitors with mobility issues, the venue provides wheelchairs free of charge, first come, first served. 
Attire: In addition to getting your steps in, you might find a pile of something you don't want to step in. Wear comfortable shoes, but not your new kicks you got for Christmas.
Pets: For the safety of all animals on the property, no pets are allowed except service dogs. No dogs are permitted in the poultry area.
Hygiene: If you've had a chance to pet one of our beautiful animals, be sure to wash your hands thoroughly before eating or touching food items. Hand sanitizer stations are available throughout the complex.
Safety: Be careful around the animals. If you get too close or startle them, they may kick, bite, or move quickly.
Get even more answers to frequently asked questions, plus tips, maps, and more!