As the summer comes to an end and the kids go back to school, what could be better than an end-of-summer celebration along the mighty Susquehanna River?  How about including three days of live music, art vendors, food trucks, a Native American Pow Wow, kids activities and more, all with FREE admission!
If you don't already know, we are talking about the Kipona Festival, a well-known and beloved tradition in Harrisburg which returns this Labor Day Weekend, September 3-5. Here are ten reasons not-to-miss attractions at this year's Kipona Festival: 
1. PHFA Laser Light Show
New this year is the PHFA Laser Light Show on Sunday, September 4 at 8:15pm. Watch as hundreds of lasers choreographed to music illuminate the sky above the Susquehanna River. Attendees can watch the display from miles of space along Riverfront Park.
2. Canoe & Kayak Activities

The Dick Reese Canoe & Kayak Races began over eighty years ago and the tradition continues this year. There will be 1-mile and 3-mile canoe and kayak distance races starting at 10am on Monday, September 5 from the lower Riverwalk near Pine Street. These races will be followed by 600-yard sprint races. The races are open to all ages and abilities and will be divided into different classes accordingly. You can sign up online in advance at ccghpa.com/kipona-race/ or during the festival. Registration is $20/person or $50 per family of 3 or more racers, and includes a t-shirt for each racer. Proceeds will benefit Harrisburg Making Connections Outdoors, a volunteer organization of the Sierra Club that provides outdoor experiences to urban youth.

​Attendees can also enjoy guided kayak tours with Susquehanna Outfitters throughout the day on Saturday, including a sunset float! Trips leave from the tip of City Island near the Harrisburg Beach Club. The special event pricing is $50 for a single kayak and $80 for a tandem kayak or canoe.
3. Food, Beer & Wine
There will be 27 food trucks serving up unique bites and festival favorites all weekend long. Enjoy BBQ, funnel cakes, stuffed waffles, dumplings, Farm Show Milkshakes, cheesesteaks, tacos and more! Attendees can also enjoy a cold beer from three City of Harrisburg breweries, including Zeroday Brewing Company, Boneshire Brew Works, and Lovedrafts Brewing. J&P Winery, Cork Dork Wine, and Cheers to You will also serve wine by the glass and wine slushies in the Civic Club of Harrisburg's scenic gardens along Riverfront Park. The beer and wine garden will offer plenty of seating and entertainment throughout the day.
4. Native American Pow-Wow

Experience authentic Native American music, dancing, food, crafts, and more. All Pow-Wow activities will be held on City Island.
5. Artist Market
Come ready to shop because there will be more than 50 artisans selling a variety of handcrafted items such as jewelry, artwork, pottery, apparel, woodworking, bath and body products, glass items and more!
6. Wirewalkers

American Tightwire will be returning with dramatic tightwire walks above the Susquehanna River at 12pm, 5pm, & 8:15pm on Saturday, 12pm & 5pm on Sunday, and 12pm on Monday. The 8:15pm walk on Saturday will be an illuminated night walk.
7.Two Live Music Stages
There will be two live music stages with 34 acts performing throughout the festival. The Capital Blue Cross State Street Stage and Market Street Stage will offer non-stop live music in a variety of genres to ensure there is something for everyone.
8. Harrisburg Free Kick Soccer
Eastern Pennsylvania Youth Soccer in partnership with the JT Dorsey Foundation will host and run a free pick-up style soccer event. Kids ages 9-16 will play small-sided games located in Riverfront Park near Washington Street on Monday, September 5. Check-in begins at 11:30am and game play starts at 12pm.
9. UPMC Family Fun Zone

There will be several free activities including face painting, balloon animals, a giant bubble festival (Monday only) and entertainment stage. The kids stage will feature live children's theatre, educational presentations, a magician, martial arts class, youth yoga classes and more! There will also be carnival games and a giant fun slide.
10. Soul Smirk Fitness & Wellness Zone
Stop by the Soul Smirk Fitness and Wellness Zone to participate in yoga, archery, Reflexology, drum circle, meditation, Zumba, cardio and HIIT workouts throughout the day. All classes are available for a $5 donation and are appropriate for all fitness levels. Classes will take place in Riverfront Park near Front and Washington Street.
---
Program Guide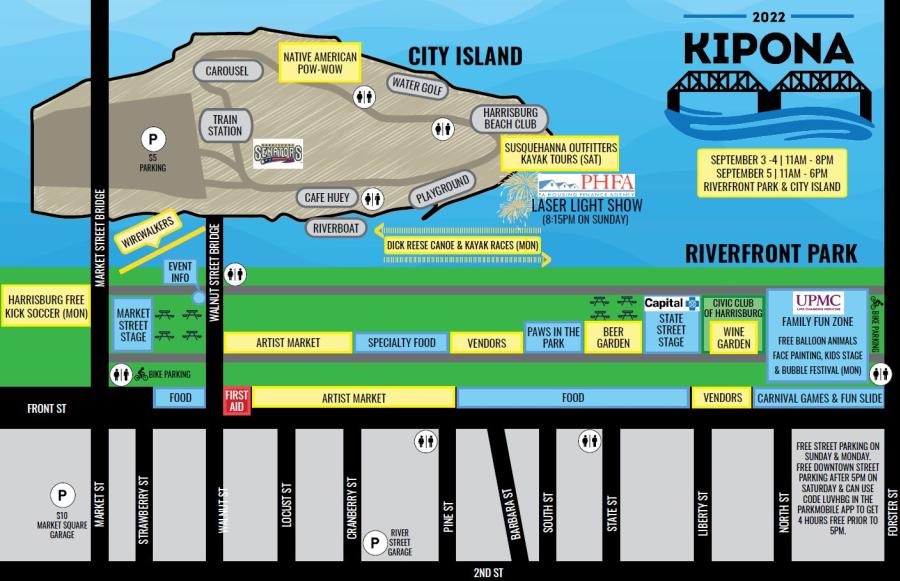 Be sure to check the program guide for the event map, schedule, foodie guide, and more. Don't forget to take photos and use #Kipona2022 to share on social media. Tag us too (@ExploreHBG) so we can see and share! View the program guide.
---
Parking & Transit
Street parking is free on Sunday and Monday. On Saturday, Downtown street parking is free after 5pm and before that you can get 4 hours free using the code LUVHBG in the Parkmobile app. $5 parking on City Island and $10 parking from 10am-10pm at the Market Square Garage courtesy of Park Harrisburg.
Recycle Bicycle will offer free bike parking and stroller checks in Riverfront Park near Market and Forster Streets. Those coming from the Lancaster, Philadelphia and New York areas can also take advantage of the train station which is just 3 blocks away from the festival.