The State Museum, affectionately known as the Smithsonian of Pennsylvania, is the official museum of the Commonwealth. There's a lot to explore, from our region's Native American history to the people, places, and products that put Pennsylvania on the map. Set aside at least 2-3 hours to explore it all!
Did You Know?
According to the 1681 PA Charter, Pennsylvania owed King Charles II two beaver pelts every year.
Pennsylvania Icons:
When you think about Pennsylvania, what's the first thing that comes to mind? The Commonwealth is known for a number of famous products, people, places, and events. This exhibit features 350 collection items, including the trophy Wilt Chamberlain was given when he played his famous 100-point game in the Hersheypark® Arena, Arnold Palmer's golf clubs, and dozens of famous products from PA.
Don't Miss: The Pennsylvania Long Rifle, the official state firearm. The Pennsylvania Long Rifle greatly improved distance and accuracy, which revolutionized military tactics in the 1700s.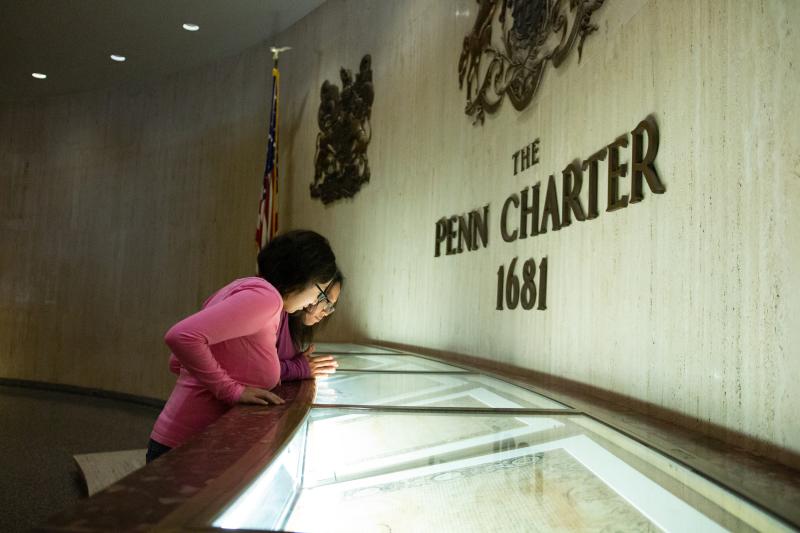 Memorial Hall:
The State Museum's center hall features a colossal bronze statue of Pennsylvania's founder, William Penn. Sculpted by Janet De Coux, the piece weighs 3200 pounds and stands 18 feet tall. Take a moment to observe the impressive mural depicting Pennsylvania's history through 1964, and observe Pennsylvania's official charter.
Don't Miss: The William Penn statue. Seriously, you can't miss it.
Village Square:
Take a stroll through a 19th century streetscape with recreations of a general store, summer kitchen, and hardware store.
Did You Know? 
Pennsylvania is nicknamed the Keystone State because of its central role in colonial history.
Anthropology & Archaeology:
Pennsylvania has a rich Native American history, and the cultures of the region's indigenous people are depicted through artifacts and recreations of Native American villages. See how archaeologists methodically dig up the past through careful excavations and research. Each year, there's an archaeological dig at historic Fort Hunter Mansion & Park to uncover more Harrisburg history in our own back year!
Don't Miss: The Petroglyphs, textured rocks removed from the Susquehanna River that demonstrate Native American use of pictographs for storytelling. Yes, you can touch these!
Objects of Valor:
Commemorating the Civil War experience in Pennsylvania, this exhibit includes artifacts, objects, uniforms, and weapons from Pennsylvania's infantry. It also holds one of the museum's most impressive pieces – a narrative painting of Pickett's Charge by Peter Frederick Rothermel, stretching 16 feet tall and 32 feet wide.
Transportation & Industry:
See the tools, machines, and vehicles that powered Pennsylvania's industrial past including planes, trains, and automobiles. The museum's Pennsylvania Turnpike exhibit showcases the modern marvel that was America's first superhighway. Pennsylvania was home to the first American toll road from Philadelphia to Lancaster, which was later expanded into the Turnpike we know today. If you're a fan of the HBO series Chernobyl, check out the special exhibit dedicated to the 1979 Three Mile Island Nuclear Power Plant Accident which resulted in a partial meltdown of one of its reactors.
Did You Know? 

You might think the State Museum's Mastodon roamed far-off lands, but the skeleton was discovered in a farmer's peat bog in Monroe County, Pennsylvania.
Life Through Time:
Dinosaurs! Step back in time and learn about the plants, animals, and insects of the Precambrian to Cenozoic periods. Walk through a Carboniferous forest featuring larger than life creatures and ambient sounds. Marvel at the fully restored 10,000-year-old mastodon skeleton - one of the most complete specimens of its kind in North America.
Hall of Geology:
There's a whole lot of Pennsylvania history before people ever arrived! Explore this region's abundant natural resources, rocks, minerals, landforms, and more!
Mammal Hall:
Get up close to a family of black bears or lock eyes with a mountain lion in the museum's most popular exhibit featuring true-to-life dioramas of both common and rare Pennsylvania mammals. All 13 dioramas are based on actual locations throughout Pennsylvania.

Don't Miss: Discover four of our state symbols in the White-Tailed Deer diorama in Mammal Hall.
Ecology Hall:
Birds and plants and animals, oh my! The museum's Ecology Hall examines various Pennsylvania ecosystems and features lots of ambient bird and insect noises.
 
More Museum Experiences
Planetarium
Take your museum experience into space to examine constellations and explore the solar system inside the museum's Planetarium. The Planetarium runs several shows a day on a variety of topics and grade levels. It's an additional $3 per person to watch the show, but it's well-worth it!
Curiosity Connection
A child's first museum experience, this fun and educational play space for children 5 and younger allows kids to learn, play, and discover. Kids can run a lemonade stand, play house, do some gardening, build towers (and knock them down), drive a farm truck, build a car on an assembly line, crawl around a magical forest, and more!

Visitor Information
You might be wondering when the best time is to visit The State Museum. The answer is…whenever! The museum is so expansive (80,000 square feet of exhibits) is never really feels overcrowded. If you're interested in the Curiosity Connection or the Planetarium, it's a good idea to reserve your spots before you start exploring the rest of the museum.
Directions: The museum is located on Third Street (GPS: 300 North Street, Harrisburg, PA 17120) between Forster and North Streets, next door to the Pennsylvania State Capitol Building. Follow signs for Downtown Harrisburg and State Capitol Complex from major highways into Harrisburg.
Hours of Operation: Open year-round, Wednesday through Saturday, 9 AM to 5 PM, and Sunday noon to 5 PM. Closed on most major U.S. holidays.
Museum Admission: $7 for adults, $6 for senior citizens (65+), $5 for children ages one to 11.
Planetarium Admission: $3 (plus museum admission) for visitors ages one and up.
Military Discounts: Admission to the museum and the Planetarium is free (with ID) for active duty military personnel and their immediate families and retired military personnel.
Parking: Metered parking spaces are available along 3rd and Forster Streets and throughout Downtown Harrisburg. Parking garages are available within walking distance.
Accessibility: The museum is handicap accessible.