The Historic Harrisburg Association's iconic Candlelight House Tour, now in its 45th year, will showcase 17 spectacular properties from 1:00 to 6:00pm on Sunday, December 9th.  Open for touring will be an alluring inventory of historic private residences, architectural landmarks and stunning contemporary living spaces.
 "There are landmarks and great architecture in every neighborhood of the City,"  said Historic Harrisburg Executive Director David Morrison. "There is always something interesting to explore on the next block, and most parts of the tour are walkable." The co-chairs of this year's Candlelight House Tour can attest to those sentiments. Ray Davis, one of the Capital Region's best-known realtors, has sold many of the houses on this and previous tours, and is a longtime member and past Board member of Historic Harrisburg.  Mitchell Orr is a history teacher at Harrisburg's Sci Tech High School who takes his 9th and 10th graders on educational walking tours in historic districts, including his own Academy Manor neighborhood.
History
Launched in 1973, the year Historic Harrisburg Association was founded, the Candlelight House Tour is the oldest and largest tour of its kind in Central Pennsylvania, drawing attendance from throughout the Mid-Atlantic Region and beyond. As a showcase of urban living in restored and preserved city homes, the Candlelight House Tour has, in 45 years, presented hundreds of properties of every size to a cumulative audience that now numbers in the tens of thousands. As such, no other single enterprise has had as large a cumulative impact on the popularity, visibility, attractiveness – and property values – of Harrisburg's historic urban neighborhoods.
17 Spectacular Properties
The majority of the tour properties are clustered in three well-known neighborhoods – Montrose Park, Old Uptown and Midtown – with a number of additional properties along Front Street.  Navigation will be easy, with walking and driving options readily available. Highlighted are the Chisuk Emuna Congregation, a stunning 21st-century modern synagogue, and several nearby residences in the Montrose Park neighborhood at the city's northern end. In Old Uptown, several extraordinary restorations of formerly dilapidated properties are featured, along with the PA Governor's Residence, which celebrates the 50th anniversary of its 1968 construction. Also highlighted are three magnificent Front Street landmarks, the Donald Cameron Mansion, the McCormick Riverfront Library and the John Harris Mansion.

Discounts at HBG Restaurants and B&B's
As the presenting sponsor of the 2018 Candlelight House Tour, ExploreHBG is helping to market the Tour to out-of-town audiences. "Our partnership with Explore HBG is taking the Candlelight House Tour to the next level," Morrison said. The partnership strategy between HHA and ExploreHBG includes discount promotions offered by participating Harrisburg restaurants and bed & breakfast, including:
Bollywood Bar & Grille
Yellow Bird Cafe 
Guests may take advantage of the restaurant discounts simply by showing their Candlelight House Tour booklet during the weekend of the tour. 

Tickets and Attendance
Tickets may be ordered on line, and the "early bird" price of only $15 runs through Nov. 16, or $20 from Nov. 17 through Dec. 8. The 60+ page Candlelight House Tour Guide Book, which also serves as guests' tickets, will be available as follows:
On-line orders will be mailed to those who include a shipping & handling fee; otherwise, booklets will be available for pick-up at Historic Harrisburg Resource Center, 1230 N. Third Street (233-4646) by showing your Eventbrite ticket voucher. 
Tickets (the guide booklet) also will be available for purchase beginning Nov. 23 at the following community locations: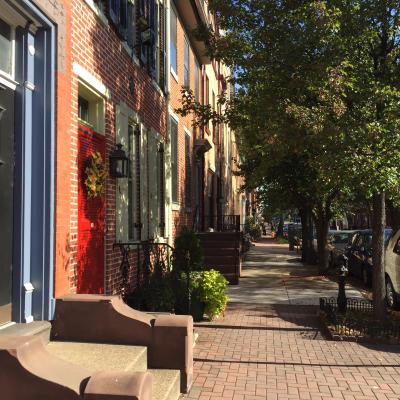 Ashley HomeStore, 3880 Union Deposit Rd. Harrisburg.
Highland Gardens, 428 28th Street, Camp Hill.
Jeffrey's Flowers, 5217 Simpson Ferry Road, Mechanicsburg.
Midtown Scholar Bookstore, 1302 N. Third Street, Harrisburg.
Stauffer's of Kissel Hill, 5350 Linglestown Road, Harrisburg.
Historic Harrisburg Resource Center, 1230 N. Third Street, Harrisburg.
Day-of-tour tickets will be $25 each, and will be available beginning at 12 Noon at the Historic Harrisburg Resource Center and at Chisuk Emuna Congregation, 3219 Green Street, Harrisburg.
For more information about the Candlelight House Tour or Historic Harrisburg, please contact the HHA offices at 717.233.4646 / info@historicharrisburg.com, or visit us online.