It's time to make your dining reservations and place your bakery orders for Valentine's Day! 
Luckily, Harrisburg is the perfect destination to make your Valentine's Day unforgettable. To help you plan the perfect evening, here are a few date night ideas to get you started:
Dining Ideas
Stock's on 2nd


This farm-to-table restaurant, located in the heart of Restaurant Row in Harrisburg, is known for their delicious gastropub-styled menu and their wide varieties of whiskeys and bourbons. Enjoy one of Stock's signature dishes such as their eggplant parmesan, or 16-hour slow-roasted beef brisket, and if you have room, make sure you try their Bavarian soft pretzels.
After dinner, Stock's is well known for their desserts featuring the popular lemon ricotta cake, tiramisu, peanut butter pie, and carrot care. Awarded Simply the Best's "Best First Date" award, be sure to make your Valentine's dinner reservations early for a table at Stock's! Call 717-233-6699 or visit their website to make reservations.
Cork & Fork
Featuring stunning views of State Street in Downtown Harrisburg, only a block away from the Capitol, Cork and Fork is known for their incredible assortment of small plates and shareables. From the braised mussels and sauteed octopus, to their burrata bruschetta and ricotta meatballs, their small plates are the perfect way to start your date night.
After the small plates, enjoy a shareable dish of spaghetti bolognese, fire roasted cauliflower steak, scallops & risotto, or the pistachio pizza, just to name a few of their selections. Try to save room for dessert because Cork & Fork offers a delicious chocolate ganache cheesecake with a ladyfinger crust. Reserve your table online.
Note Bistro & Wine Bar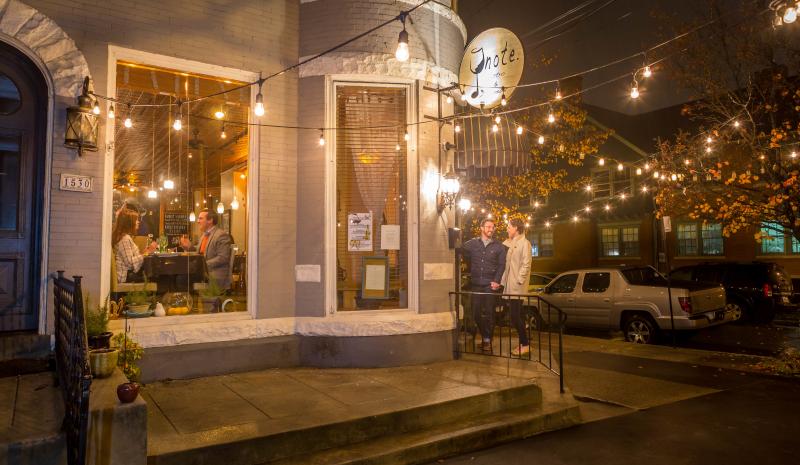 Located on 2nd Street in Midtown Harrisburg, Note Bistro & Wine Bar features a menu pairing European inspired cuisine with an eclectic wine list. Located in a beautifully repurposed 1910 Victorian home, Note is the perfect place to enjoy upscale dining within an intimate setting. Be sure to try their famous maple glazed duck breast or their famous Yukon Gold Gnocchi. The best way to reserve a table for Valentine's Day is to email the owner directly at RUTH@NoteWineBar.com
Los Tres Cubanos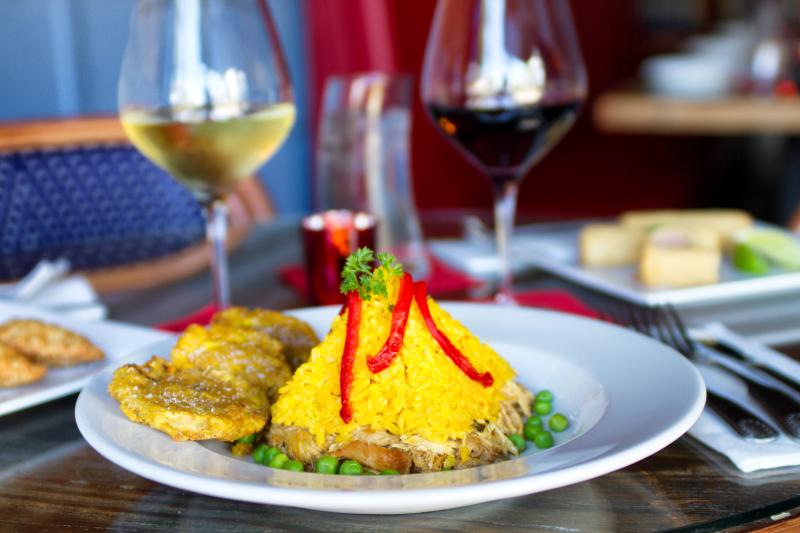 Located in the Shipoke neighborhood of Harrisburg, Los Tres Cubanos is known for delicious, authentic Cuban cuisine. Get unique dishes like Ceviche, shrimp marinated in fresh lemon and lime juice or lechon asado, a slow roasted port shoulder marinated in a signature mojo sauce. End the night with one of their scrumptious desserts like tres leches, a three milk cake or arroz con leche, a rice pudding.
Bakery Treat Ideas
Raising the Bar Bakery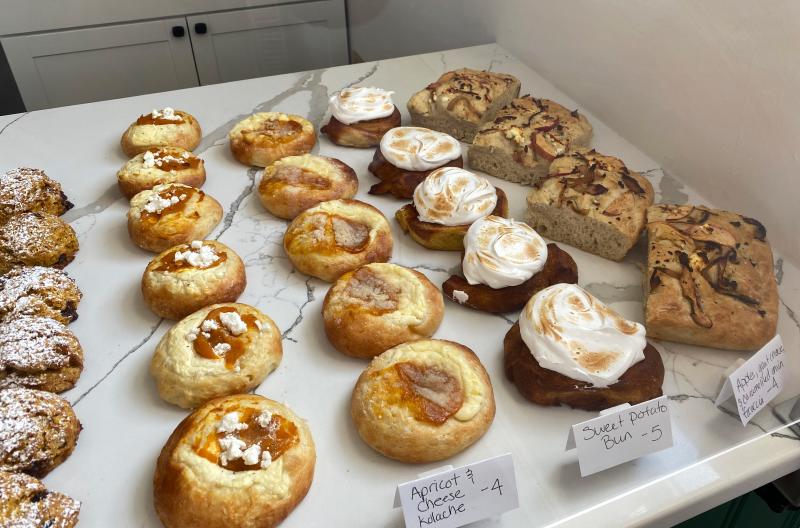 Located within the Broad Street Market and at 1507 Third St, Raising the Bar Bakery is known for their delicious pies, babka, cheesecakes, cinnamon rolls, scones and take-home treat boxes featuring an assortment of cookies, macaroons and bars. They are open at the Broad Street Market Thursdays & Fridays from 7am to 5pm, and Saturdays from 7am to 4pm. They are open at their Third St location Tuesday through Saturday 7:30am - 3pm, and Saturdays 8am - SOLD OUT.
Matango's Candies
If you are looking for truly hand-dipped confections, be sure to check out Matango's Candies on Catherine St. in Harrisburg. Since 1947, this factory store has been located in the same neighborhood that founder Christofros "Pop" Mantangos once lived, and has become a favorite among residents and visitors alike.   Their Valentine's menu features unique chocolate heart boxes including the ever-popular rose box, the satin & lace box, the oxford tie heart, and the tuxedo heart. Matango's is open Monday – Saturday from 9am to 5pm.
Alvaro Bread & Pastry Shoppe 
Located in a quiet area of Uptown Harrisburg, Alvaro's is famous among residents for their cannoli's made with ricotta cheese and plenty of chocolate chips. They also offer small cookie trays and chocolate dipped cannoli's. They are open Monday – Friday from 10am to 6pm, and Saturdays from 10am to 9pm.
Anna Rose Bakery 

Featuring a vast assortment of cupcakes, muffins, cookies, brownies, and chocolate-dipped strawberry trays, Anna Rose Bakery can customize a box of treats for your Valentine. They also offer a wide selection of gluten free cupcakes and cookies. Open Monday through Friday from 7am to 5pm, Anna Rose is located at 100 North 2nd St. in Downtown Harrisburg.
Unique Ideas
Anti-Valentine's Day Cabaret

On February 14 at 7:30 pm, join Theatre Harrisburg and Harrisburg Gay Men's Chorus as they present "Dessert: An Anti-Valentine's Day Cabaret," showing for one night only! Seats and refreshments are limited so buy your tickets now! 
Harrisburg Beach Club Igloos

If you are looking for a truly memorable evening, look no further than the Harrisburg Beach Club located on City Island. The Beach Club has installed heated "igloos" each winter where you can enjoy Hidden Still Spirits, specialty drinks, beer, wine and non-alcoholic beverages. Their food truck menu is full of classics like pulled pork, coney island dogs, pork carnitas tacos, and lots of fries. The beach club is open Monday - Friday from 4-9 pm, and on Saturdays and Sundays from 12-9pm. Be sure to reserve your igloos early, as they book fast! New this year is curling lanes which also need to be booked in advance! 
Take a Brewery Tour

The original Appalachian Brewing Company brewpub is located on Cameron Street in Harrisburg and offers private tours. Come explore this 1915 brick and heavy timber brewery, as your guide leads you step-by-step through the beer and soda brewing process.
After the tour, sample their craft beverages including their Water Gap Wheat, Mountain Lager, Jolly Scot Scottish Ale, Hoppy Trails I.P.A, and more. For dinner, be sure to try their menu classics including the brewer's mac & cheese, pierogies and beer brats, beer battered fish & chips, and their famous "mile high" meatloaf.
Note: Email sodaworks@abcbrew.com for to schedule a tour.
Things to do Leading up to Valentine's Day
Brunch & Bubbles at Home 231
Join Home 231 on Saturday, February 11 at 11:30 am for a sparkling brunch event featuring a delicious menu and an array of bubbly options. From classic mimosas to sparkling wines, their bartenders will be shaking and pouring all morning long. So gather your friends and make a reservation, it's time to brunch in style. Bottles of bubbly, delicious food, and good company, what more could you ask for? Sign up in person or get your tickets here.
Cardmaking at The Millworks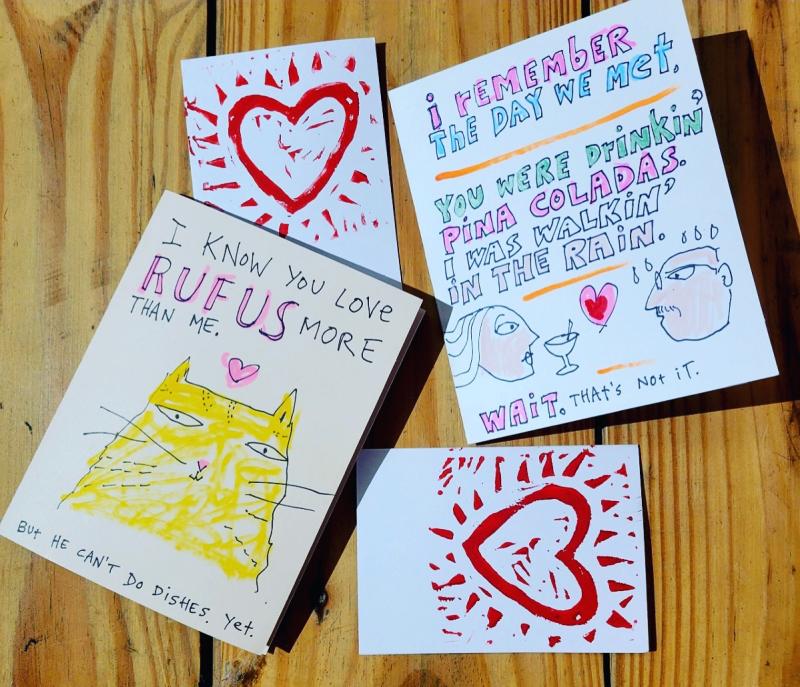 Come out to the Millworks on Saturday, February 11 from 6-9 pm for FREE customized cards just for you by P.D. Murray. While you're there, enjoy some music and grab dinner from their delicious seasonal menu. 
Bonus: The restaurant is also offering some Valentine's Day specials like duck fat madeline, hanger steak and pistachio cake. Check out the whole Valentine's Day Menu and make your reservations now!
Elementary Open Mic: Love & Anti-Love Songs
Elementary Coffee Co's Valentine's Open Mic Night is for everyone who loves to show off their talent. The theme of the night is Songs of Love & Anti-Love, so come prepared with some of your favorite tunes. Sign-ups will start at 6:45pm, and you can perform up to two songs per group. And if you need a break from singing, don't worry – the Coffee Bar will be open throughout the night! So come join in for a night of music and fun! Follow Elementary Coffee on Instagram for any additional details.