Black History Month is a time to celebrate the accomplishments, contributions and history of Black people in the United States.
February was designated as the national African American History Month by President Gerald Ford in 1976. The purpose of the month is to honor those individuals who have made significant contributions to the advancement of African Americans in our country.
In addition to celebrating their successes, Black History Month also serves as an opportunity for us to learn more about this important part of history. Below you'll find ways in which you can learn about and celebrate the contributions of African Americans in Harrisburg and beyond.
Attend Events

Voices of the Eighth
Voices of the Eighth Chronicles II showcases the stories of Harrisburg's Old Eighth Ward, a once vibrant African-American community that was demolished in the 1960s. Through a mix of storytelling, imagery, movement, sound, and music, this project celebrates the work of chain-breakers and change-makers who have continued to shape the city's history and culture. This project not only acknowledges the struggles of the past but also highlights the important role that the people of Harrisburg's Old Eighth Ward have played in its transformation. For tickets and more information, click here.
Situating Black Harrisburg: A Cultural Historical Discussion
Join Young Professionals of Harrisburg on February 9th at 11 am in the Harrisburg University Auditorium (14th Floor) with speaker Dr. Kimeka Campbell for an exploratory discussion on the cultural-historical importance of Black Harrisburg as a connector to the national historical landscape. Lunch will be provided provided. RSVP required:  bit.ly/BLKHBG23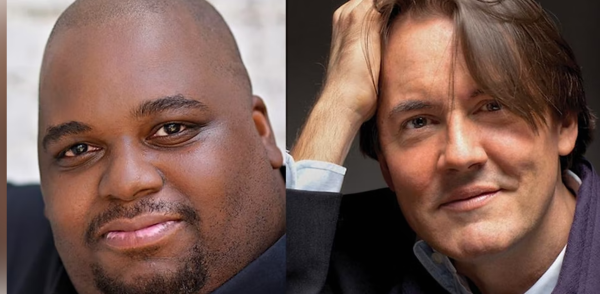 Make Them Hear You: A Spiritual Journey
On Wednesday, February 15 at 7:30pm, join Market Square Concerts for an evening celebrating Black History Month with a program of American art songs. Music by Undine Smith Moore, Thomas Kerr, Hall Johnson, Mark Markham and Margaret Bonds. For tickets and more information, visit marketsquareconcerts.org/concerts.

Harrisburg Rise Up: Honoring African American Trailblazers in our Community
Join the Civic Club of Harrisburg on February 17 for food, art and local vendors as they honor African American trailblazers in the community. Doors open to view art at 5:30 PM and program begins at 6:30 PM.
Black History Month Reading Challenge
Join Dauphin County Library System's Black History Month Reading Challenge which challenges readers of all ages to read books by Black authors. Log your reading and complete the challenge to win a free book and be entered to win gift certificates to Good Brotha's Book Cafe in the McCormick Riverfront Library! Learn more here.
---
To see what else is happening in Harrisburg, visit our calendar of events. 
---
Visit Historic Monuments, Museums and Exhibits

A Gathering at the Crossroads: For Such a Time as This
Visit the First African American Monument on PA State Capitol Grounds, "A Gathering at the Crossroads: For Such a Time as This," which was officially completed in 2020. The site of the monument is significant, located where Harrisburg's "Old Eighth Ward" was, until the early 20th Century, a thriving multicultural neighborhood.
The monument commemorates two anniversaries of two major milestones in the quest for equal rights in America: The 150th anniversary of the 15th Amendment to the US Constitution granting Black men the right to vote (February 3); and 100th anniversary of 19th Amendment which granted voting rights to women (August 26).
For more information regarding this project, visit digitalharrisburg.com/commonwealth/

Civil War Museum
The National Civil War Museum is one of the largest museums in the world dedicated solely to the American Civil war. The Museum seeks to tell the whole story of this most troubled chapter in American history, while focusing on the issues, the people and the lives that were affected. The causes and ramifications of this conflict that divided a Nation are investigated; both Northern and Southern viewpoints are presented; and military as well as civilian perspectives are highlighted.
The museum is open Monday to Saturday, 10am - 5pm and Sundays 12pm - 5pm. The museum will be closed February 12-17.
Bonus: Community Free Day on February 18th!
Learn more at nationalcivilwarmuseum.org/

"Trailblazers" Exhibit at the Pennsylvania Capitol Complex
Pennsylvania's history is full of remarkable figures who not only helped to shape the future of the Commonwealth but also the future of the nation. Discover some of these inspiring stories when you browse the "Trailblazers: Notable African Americans in Pennsylvania History" exhibit located in the East Wing Rotunda at the Pennsylvania State Capitol.  The exhibit includes 23 portraits in total, with eight rotating into the featured public display each year. Plan your visit to the capitol here.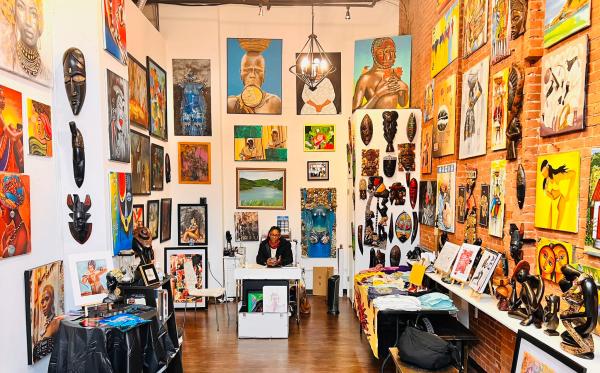 Photo by Nyeusi Gallery
Support Black Businesses
Harrisburg is a city that celebrates its cultural diversity, and the Black-owned businesses within it are an important part of that. From restaurants and bars to arts and crafts, these businesses offer something for everyone in Harrisburg. This month and every month let's support these amazing Black-owned businesses in Harrisburg and discover how they contribute to the city's vibrant culture.
Click here for a list of Black-owned businesses in the Harrisburg area.
---
Follow along on Instagram, Facebook, TikTok and Twitter as we highlight some of the Black-owned businesses in Harrisburg.
---

Visit a Mural: Raffia
A steering committee of Black Harrisburg community leaders dedicated to creating a mural celebrating Black culture guided the creation of "Raffia." They selected talented Black Harrisburg artist, Bryan "King Prolific" Hickman, after he served as an apprentice on Sprocket Mural Works' Mulberry Street bridge murals. He describes "Raffia" as "Afro-inspired," depicting a Black woman who's a friend and Harrisburg resident. The mural incorporates themes of African American strength, appreciation for youth, and the importance of education. Studies show that murals that depict themes of diversity within diverse neighborhoods (such as Harrisburg's) lead to increased community pride and civic engagement. 
The mural is located at 928 James Street. Learn more about "Raffia" and other important murals here.
Contribute to Black Organizations and Charities
There are many ways to support your community, including donating money to a charity, movement or group. These monetary contributions can help fund programs and pay for legal costs and salaries that keep an organization afloat.
Here are some non-profit organizations advancing Black rights and equal justice: