Whether you are looking to surprise your sweetheart tonight, or you are planning a Valentine's evening to remember, Harrisburg is your destination for a great date night.
---
Indoor Dining in the City
Many Harrisburg City restaurants are open for indoor dining, with limited capacity, so it's worth making your reservations early. Here are just a few of the romantic dining spots you will find in HBG:
Note Bistro & Wine Bar pairs European cuisine with an extensive wine list, and a world-class service.
Char's Tracy Mansion offers the ultimate fine dining experience along Front St. with stunning views of the Susquehanna. Char's is now also offering a limited take-out menu and take-out cocktails.
Home 231 specializes in unique farm-to-table local dishes in a cozy setting on North.
Los Tres Cubanos, located in the Shipoke neighborhood of Harrisburg, is known for delicious, authentic Cuban cuisine, and offers extended hours on Valentine's Day.
Carley's Ristorante & Piano Bar is the perfect date night location for live music and rustic Italian dishes.
1700 Degrees Steakhouse is known for it's prime steaks, fine wine and large fireplaces.
The Millworks is the perfect place for a complete date night featuring artist studios, a craft brewery and farm-fresh dishes.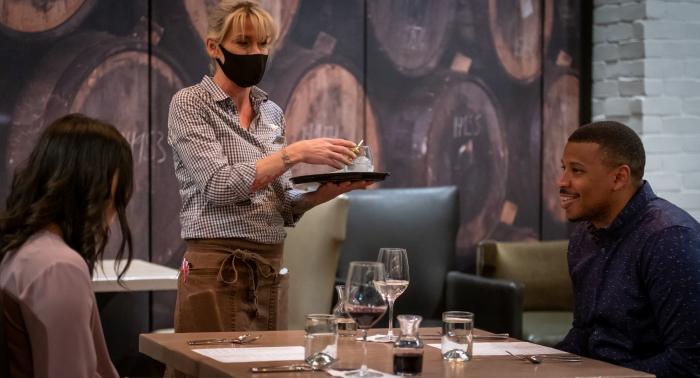 ---
Outdoor Dining at Cork & Fork
With winter temperatures near freezing, outdoor dining might sound a bit strange, but Cork and Fork has found a unique way to seat guests outside. Their private, heated "snow globes" offer a cozy setting along State Street with gorgeous views of the PA State Capitol building.  In addition to a delicious menu of pastas, pizzas, meats, cheeses and small plates, Cork & Fork offers family-style dining options with dishes that serve 4-6 people each! Be sure to make reservations for their outdoor dining early!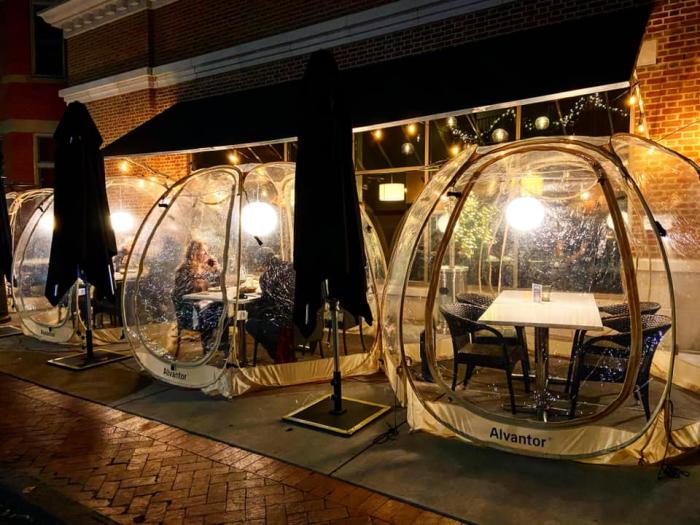 ---
Bakery Treats
Anna Rose Bakery, located along 2nd Street in downtown Harrisburg, offers a wide variety of assorted chocolates, baked goods and gift baskets for your loved one. Are you craving fresh, chocolate covered strawberries? Anna Rose has you covered with a fantastic pre-order special for Valentine's Day.
Their menu of baked goods changes weekly, so be sure to check out their website for weekly specials and to place online orders.
---
The Midtown Cinema
If you think movie theaters are a thing of the past, think again! The Midtown Cinema, Harrisburg's independent art house cinema, has been completely renovated and now offers unique movie-watching packages that would make a perfect date night!
Rent your very own private movie theater for a night! Private screenings are available for groups of up to 10, so why not double or triple date?
After catching a movie, swing by the ZeroDay tasting room, located in the lobby of the Cinema.
Feel like staying in? The Cinema now offers a collection of movies available to rent or buy from the comfort of your own home. You can also pick up all of your favorite theater snacks, now available to-go!