Whether you are looking for beautiful nature trails along the river, a path of murals found in the heart of the City, or historic trails around the Capitol, Harrisburg has you covered. 
---
Mural Trail
If you love art and are looking for a trail that you can follow on your own, Harrisburg is home to 40 large-scale murals clustered throughout the City.  Their sponsoring nonprofit, Sprocket Mural Works, has created a detailed mural map for visitors and residents alike to plan their trail. This is also a great outdoor activity for those who are social distancing. 

"Exploring the murals during this time rewards visitors with positive benefits on multiple levels," said Megan Caruso, Sprocket co-founder. "Art has powerful therapeutic values, and the exercise of walking between murals is also beneficial, so visitors can boost both their physical and mental health."
(Mural by artist Anat Ronan, located at 263 Oliver Alley)
In addition to the digital map, Sprocket Mural Works has also put together a mural finder on Google maps, which shares not only the trail, but also facts and embedded photos for each mural stop. You can share your mural visits on social media using the hashtag #HBGMuralTrail.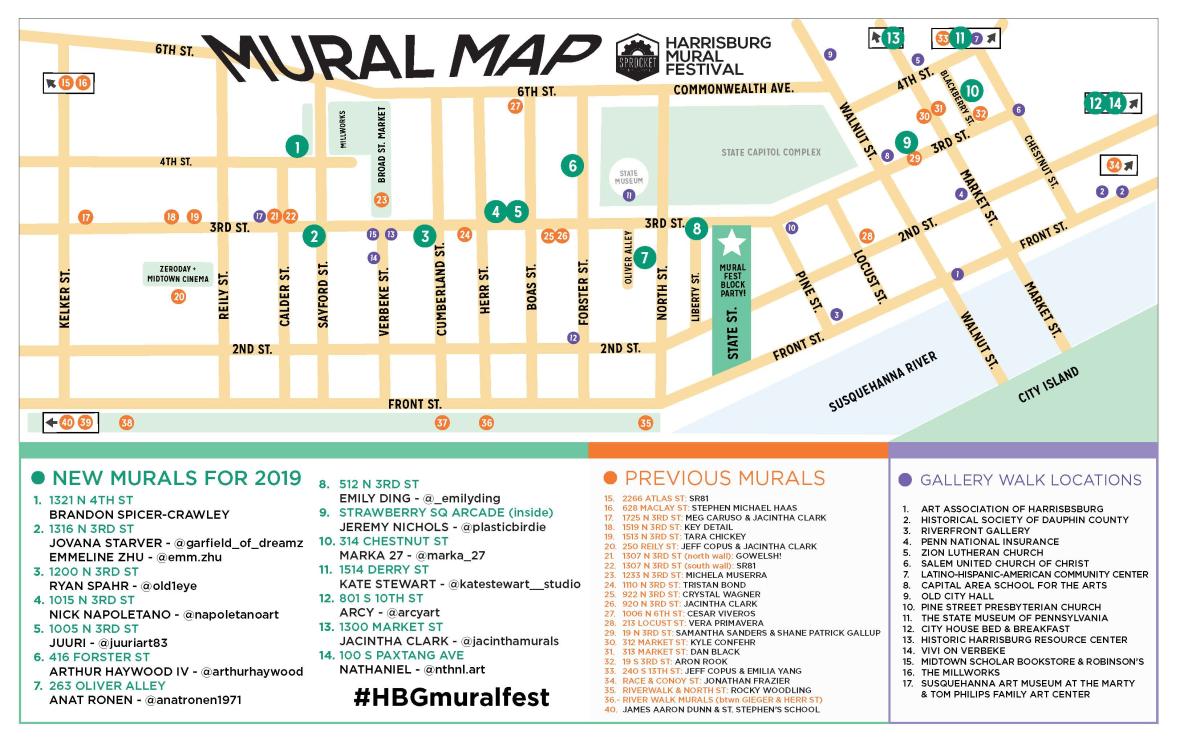 ---
Hiking Trails
Wildwood Park
Wildwood Park is a jewel for nature and wildlife lovers looking for a serene stroll. On a beautiful morning, you'll see couples jogging, solo cyclists, families out for a walk, nature photographers, and lots of dogs getting their exercise!
Length: 6 miles, 8 trails, with a 3.1-mile loop
Type: Paved, stone, boardwalk, primitive
Difficulty: Easy
ADA Accessible Trails: Yes
Parking: Several lots, depending on where you'd like to begin
Wildwood has several paved, primitive, and boardwalk trails that encircle a peaceful lake, dotted with lily pads and water fowl. Your hike is what you make it, depending on what type of trail you're into and how long you want to trek. If you want to walk the entire Park, hop on the Wildwood Way Trail (paved), then the Towpath Trail (stone), which will bring you back around again. The wooden North Boardwalk and Delta Boardwalk bring you closer to nature and include observation areas for spotting birds and wildlife.  
Capital Area Greenbelt
Wildwood Park is just one of the many scenic stops along the Capital Area Greenbelt, a 20-mile urban pathway in Harrisburg. While the Greenbelt is most often traversed by cyclists, there are a few stretches that hikers and walkers can enjoy. Review the map and choose any section you like! The Capital Area Greenbelt is made up of sections, each with their own personalities, sights, and sounds.
Length: 20 miles, broken into sections
Type: Paved
Difficulty: Easy
ADA Accessible Trails: Yes
Parking: Ample parking at various trailheads
The Greenbelt Parkways - Cameron Street and Paxtang – are perfect for day strolls, enjoying nature in an urban/suburban environment. The 1.4-mile (2.8 round trip) Paxtang Parkway is a walk in the woods without ever leaving the city. The trees provide a canopy on a hot day and the natural area attracts lots of wildlife. The parkway is paved and ADA accessible but also offers a few off-road trails for mountain biking. These trails take you a bit deeper into the wooded areas, adding to the oasis feel of the Greenbelt, then drop you right back into the Parkway. 
Riverfront Park & City Island
Riverfront Park accounts for a 3.9-mile section of the Greenbelt offering scenic views of the Susquehanna River. You can start anywhere between Shipoke and the Jewish Community Center in North Harrisburg, but if you park on City Island you'll ride across the Walnut Street bridge. Along the way, stop to enjoy the gardens, art sculptures, and memorials that give the city character!
Situated in the middle of the Susquehanna River, City Island offers a one-mile flat loop for walking or jogging. Allow plenty of time because you'll want to stop and see the stadiums, play miniature golf, grab an ice cream cone, hop on the train, and watch the Pride of the Susquehanna Riverboat paddle by. 
Length: 3.9 miles in length
Type: Paved
Difficulty: Easy
ADA Accessible: Yes
Parking: City Island in Harrisburg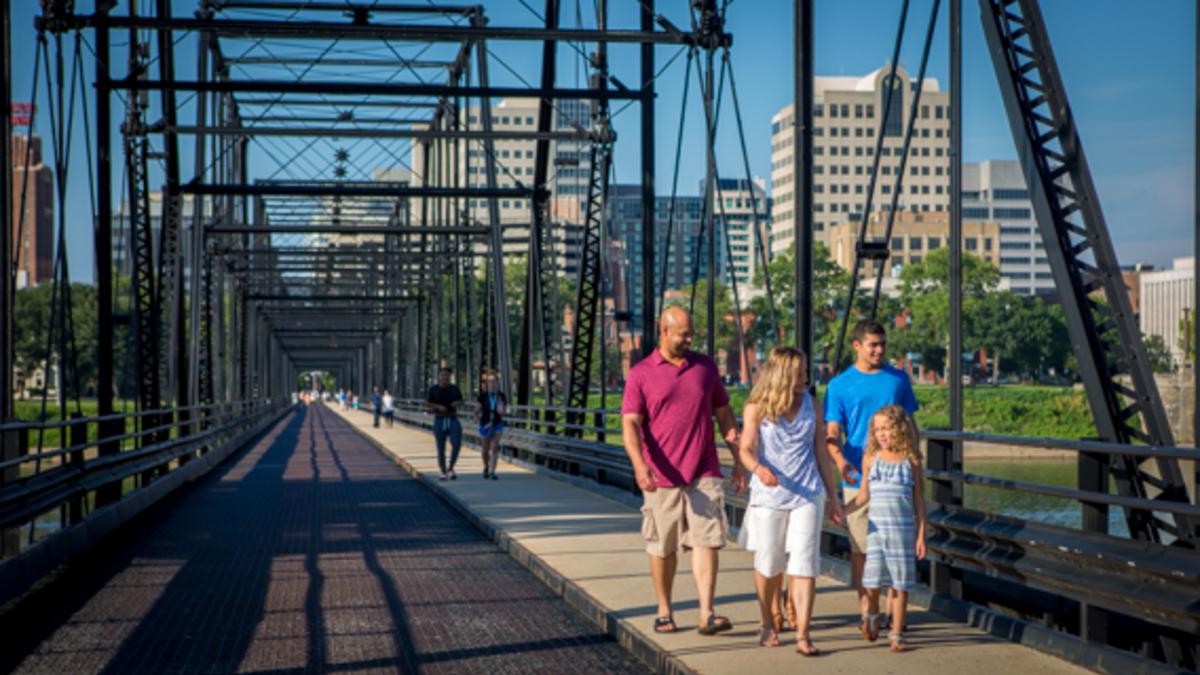 ---
Historic Trails
The Historic Harrisburg Association offers group walking tours and historical self-guided trails throughout the City of Harrisburg. With social distancing efforts in place, Jeb Stuart, Historic Harrisburg Association Preservation Advisor, who was instrumental in laying out these historic trails, created a series of self-guided trails that you and your family can take throughout the City.
You can also request a guide for any of these tours by calling HHA at 717-233-4646.
If you are interested in signing up for a guided tour, check out their calendar of events for a list of upcoming walking tours including:
Civil War Landmark Tour
Dog-Friendly Historic Walking Tour
Their ever-popular City Beautiful Revisited Tour

"Race Against Racism" African American Heritage Walking Tour
In 2016, The YWCA commissioned the Historic Harrisburg Association to craft a route for the Race Against Racism highlighting sites and landmarks associated with Harrisburg's African American heritage. As designed, the 5k route encompassed 30 important historic sites and landmarks, each depicted on a site-specific sidewalk sign, the series of which is available in booklet form by contacting the Historic Harrisburg Association at info@historicharrisburg.org.
Harrisburg Riverfront Park & State Street Walking Tour: 
This tour is packed full of fascinating historical facts, beautiful architecture and incredible stories. You can request a tour guide to be sure not to miss any important details, or use the following outline to get you started on a self-guided trail:
The Walking Tour begins at Market Square in downtown Harrisburg. Highlights of the guided tour include the founding of Harrisburg, the importance of the Square as the urban center over the centuries, Abraham Lincoln's visit, Market Houses, and evolution of it's development.
Walk along Market Street to Riverfront Park, reaching the Market Street Bridge. Highlights of the guided tour include a history of this river crossing, Camelback Bridge, threatened invasion of Harrisburg during the Civil War, traditional gateway to the city as accented by eastern terminus plaza and columns salvaged from the old Capitol destroyed by fire in 1897.
Visit the City Beautiful Monument in Riverfront Park just north of the Bridge. Erected in 1915 after the completion of parks and infrastructure improvements as proposed by Warren Manning and James Fuertes. Continue your walk north in Riverfront Park and view Governor's Row and view several beautiful Front Street mansions. 
Continue North to Swenson Plaza and the Walnut Street Bridge listed in the National Register of Historic Places as the oldest Susquehanna River crossing, which serves as a pedestrian and bikeway crossing to attractions on City Island.
Continue North to State Street and Kunkel Plaza, passing the homes of William Maclay and J. Donald Cameron (that U.S. Grant visited.) 
Tour State Street toward the Capitol and on the guided tour learn the importance of this historic boulevard and home to four historically and architecturally importance churches including Grace Methodist, which served as the meeting place of the State legislature after the burning of the old Capitol building.
Proceed to the Capitol and visit the rotunda, capitol Park, and view the Mexican War Monument. Cross the Walnut Street overpass into Strawberry Square and on the guided tour learn about its importance as the catalyst for downtown urban renewal starting in the late 1970s.
 
For more information on historic walking tours, please contact the Historic Harrisburg Association at info@historcharrisburg.org or by calling (717) 233-4646.