With the ever-growing diverse population in Harrisburg, it has quickly become a multicultural destination. As we recognize, Hispanic Heritage Month from September 15 – October 15, 2022, we wanted to provide you with a listing of some opportunities throughout the City!
Celebrating La cultura Hispana comes in different ways. Some people enjoy gathering outside to meet with neighbors and share heritage similarities in cuisine or go to local restaurant to taste a "buena comida" (good food), others visit local art or join family events within the city.
Attend HBG Celebrations
Wolf Administration Kick-Off 2022 Hispanic Heritage Month
September 15, 12-1 PM
Main Capitol Building Rotunda in Harrisburg
The Pennsylvania Governor's Advisory Commission on Latino Affairs (GACLA) and the Interagency Planning Committee will hold a multi-agency celebration at the Capitol. This year's theme is "Unidos: Inclusivity for a Stronger Nation." Various officials will be speaking at the event followed by a networking social held in the Atrium of the Keystone Building, 400 North Street. More information about the event can be found here.
City of Harrisburg's Celebration at Tres Hermanos & Arepa House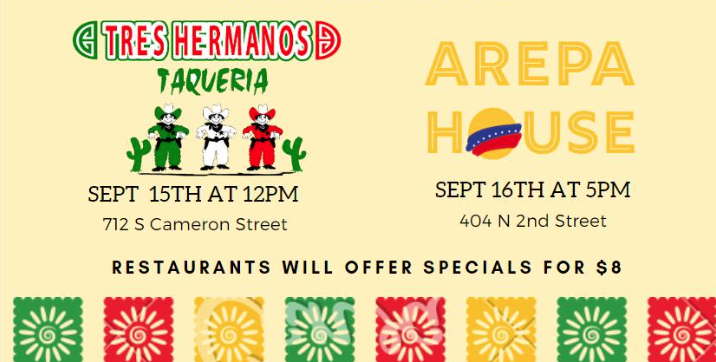 Tres Hermanos: September 15, 12 PM
Arepa House: September 16, 5 PM
Both restaurants will be offering a special menu item at a lower price to celebrate the month along with Harrisburg Restaurant Week. Try Venezuelan cuisine at Arepa House and experience authentic Mexican cuisine at Tres Hermanos. Bonus: Meet Harrisburg Mayor, Wanda R.D. Williams!
Taste "Buena Comida" (Good Food) & Support More Hispanic Restaurants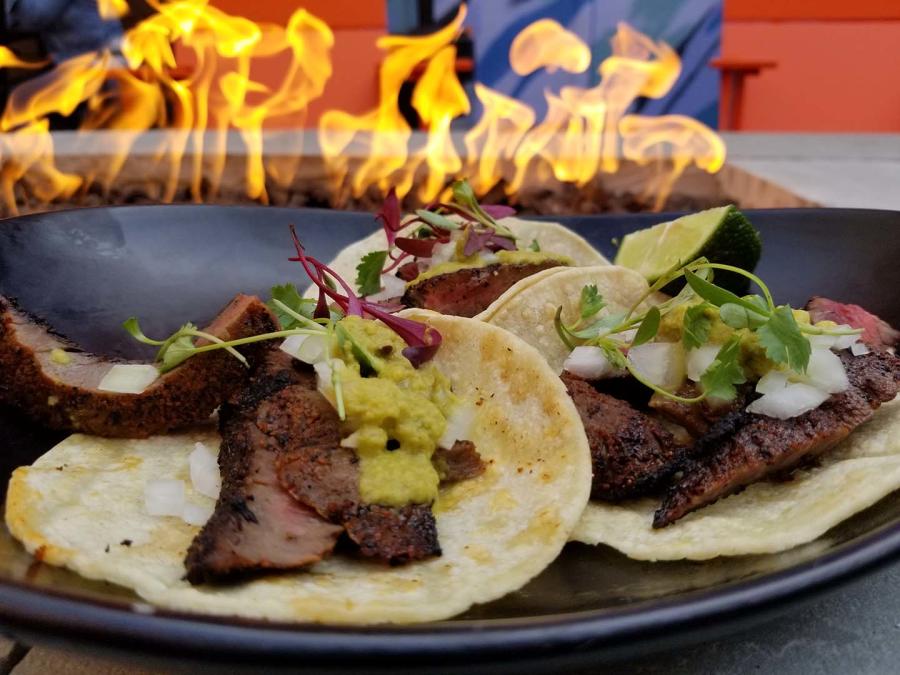 Puerto Rican Cuisine at Las Delicias ( 2060 Derry St) & Anastacia's Restaurant Bar (1535 N 6th St)
Dominican Cuisine at Rice and Beans (319 S 17th Street)
Mexican Cuisine at MASA (712 S Cameron St), Taco Amigos (200 N 2nd St), El Sol (18 S 3rd St), Tacos Mi Tierra (1426 Derry St) and Café De Olla (210 N 3rd St)
Salvadorian Cuisine at Pupuseria Florecita (2341 Berryhill St)
Modern Mexican Cuisine at Zero Day Brewing's La Catrina (925 N 3rd St)
Visit Mural by Justin Suarez
In 2021, a new mural was added to the HBG Mural Fest. It was created by Justin Suarez to showcase love between pets and their adopters as well as Harrisburg's diversity (for Hispanic Heritage Month.) This beautiful mural is located at Anastacia's Restaurant & Bar which specializes in Puerto Rican cuisine, the perfect site for a visual representation of diversity in Harrisburg.
Make Hispanic Dessert
If you need an excuse to make something sweet, this is it! Churros originally came from Spain and were eventually brought over to the Spanish and Portuguese colonies in America. In Mexico, they are sold all over by street vendors or in "Churrerias," which are shops that mostly sell churros. Learn how to make them here! 
Share How You Celebrate
Take photos/videos of how you celebrate Hispanic Heritage Month, share on social media and tag us! (@ExploreHBG)